Editor's note: This article was adapted from a news release that was recently distributed to the media.
For the third time, the Evangelical Press Association (EPA) has honored Answers magazine, published by Answers in Genesis (AiG), with its Award of Excellence from among scores of Christian periodicals. At EPA's recent annual convention in Oklahoma, Answers magazine was also awarded numerous other honors in categories that relate to the quality of the magazine's writing and artwork.
This year,

Answers

magazine was recognized as number one overall in the category "General Print" by receiving the Award of Excellence . . .
This year, Answers magazine was recognized as number one overall in the category "General Print" by receiving the Award of Excellence, as well as two first-place awards and several other awards, for a total of 11. EPA stated, "The Awards of Excellence honor the best work done in EPA publications during the 2018 calendar year."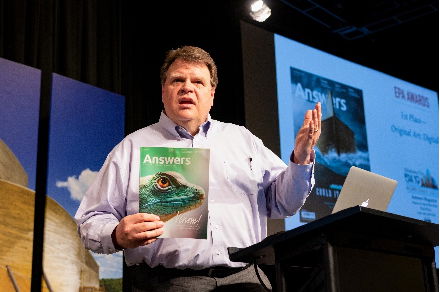 Ken Ham, founder of Answers magazine and CEO of AiG, declared: "More than ever, Christians need resources to defend their faith in an increasingly secularized culture." He added: "In our electronic age, print resources like the award-winning Answers magazine are still much in demand. Families all over the world are not only subscribing to this remarkable magazine, but they are leaving copies in offices, placing them on their coffee tables, and donating copies to libraries so others can be exposed to the teachings of this exceptional creation-worldview magazine."
Known for honoring the best work done by its member publications each year, the EPA has awards in over a dozen publication categories (newspapers, e-newsletters, magazines from ministries, Christian schools, denominations, youth organizations, mission groups, etc.).
The 10 other awards received by Answers magazine at the EPA conference were in the "Higher Goals" categories:
First Place:
General Article (short)—"Wolves: Strength of the Pack"
Original Art (digital)—"Noah's Ark, Could it Float?"
Second Place:
Photo Feature—"Shells: The Ultimate Beach House"
Third Place:
Cover—Shells
Cartoon—Kids Answers Sick Squad
Titles—Arctic Fox; Shells
Fourth Place:
Typography and Lettering—"How the Arctic Fox Got Its Winter Coat"
Fifth Place:
Department—Creation on Display section
Original Art (traditional)—"What's Behind Today's Attack on Marriage?
Publication Design
Recognizing the importance and contributions of Answers magazine and its staff to Christian media, the EPA voted to have the magazine's lead graphic designer, Dan Stelzer, become EPA president in 2021.
Subscribers to Answers now also receive its digital edition for free. Each print issue includes a special multi-page pull-out children's section called Kids Answers and full magazine content via an associated website, AnswersMagazine.com. Subscribers even receive free access to an audio version of each article and additional exclusive videos and articles online. Published every two months, Answers includes articles written at both layman and semi-technical levels.
AiG, celebrating 25 years of outreach this year, is an evangelistic apologetics (i.e., Bible-defending) ministry based in northern Kentucky, near Cincinnati. The Creation Museum, located west of the Cincinnati Airport, has welcomed over four million visitors since opening in 2007. AiG's Ark Encounter in Williamstown is a one-of-a-kind historically themed attraction with a massive Noah's Ark as the centerpiece, drawing more than one million guests a year.
More information about AiG, its attractions, and Answers magazine can be found at AnswersInGenesis.org and AnswersMagazine.com.