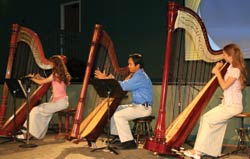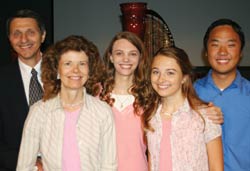 For Harold and Rebekah Mally, there is no separating family and ministry. Tomorrow's Forefathers, the Mally's full-time ministry, was started to help equip families to be strong in the Lord, and everyone is involved. Initially, the children simply quoted a verse of Scripture or handed out tracts. But now they combine music, skits, and chalk drawings as they minister to families and young people. In many of their presentations, they focus on biblical creation.
While this homeschooling family has long been committed to biblical truth, creation wasn't always part of their ministry. Because they lacked a science background, they hesitated to talk about creation in their ministry, but God continued to burden them with its importance. Then an idea came—even though they couldn't write the books, they could make them available. They started including a book table loaded with creation resources, which led them to develop a basic presentation on creation.
Harold says that if a father leads his family to an understanding of biblical creation, the family becomes more aware of the battle that is raging. "When they see that we have all the ammunition, they get excited and see the great opening it provides for evangelism conversations."
The Mally family discovered that you don't need to know everything about creation before using it to glorify God and point others to Him. As Harold reminds us, "If all we have is a little bread and a few fish, the Lord is able to multiply it."
See www.tomorrowsforefathers.com/forefathers for more information on Tomorrow's Forefathers.