It's a remarkable story, just too unusual to keep secret. Recently, Ken Ham's hard-hitting video on racism, One Blood, was shown at Johnston Atoll, a remote and tiny Pacific Island "in the middle of nowhere."
The story starts with a "movie & an ice cream" ad (below) in the Island Breeze, a newsletter published by the US Air Force base on the 2-mile-long island.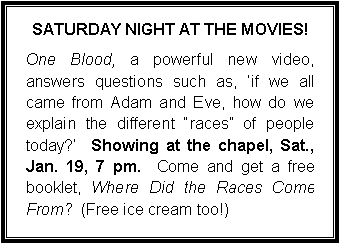 Donna O'Daniel, a seabird biologist who serves at Johnston Atoll National Wildlife Refuge, was burdened to get out the Gospel to the island's unique assortment of over 1,000 civilians, military personnel and visiting scientists from around the world.
"The video showing went very well!" Donna rejoiced, after the first showing. "Fifteen people showed up, including one of the Blacks who work here on island, one of the law enforcement guys, and the deputy chief of our fire department. Afterwards, several people sat around eating ice cream, asking questions and discussing the video. They all thought it was excellent." Donna also handed out copies of the booklet Where Did the Races Come From?
"We have quite a few Blacks who work here," she says, "and I invited many of them, all of whom indicated a keen interest. Some of them, as well as some of my other friends and acquaintances, told me that they wanted to be there but had already committed to another activity or were going to be off island at Honolulu, Hawaii."
Back by popular demand!
Because many people had other commitments, Donna offered another showing two weeks later. One Blood again lit up the screen at the military chapel on February 2. The whole island was invited.
"Saturday night's showing of One Blood went very well-twelve people came to see it, including two whom I had never been successful before in getting to anything!" Donna says of the latest showing. "There is great interest in this video."
Donna loaned the video to two other people who wanted to see it but were working. To her knowledge, neither one was a Christian, but both were keenly interested. Here's what they had to say, after watching Ken Ham's video:
"It was very interesting. I think it confirms what I thought might be the answer. However, I liked how he brought it back to the 'poodle stage.' He was very entertaining. Thank you." -R.M., at Johnston Island

"I really enjoyed the movie; it makes sense and does explain several issues like how did Cain acquire a wife. One thing that I did find interesting is that the congregation where he was preaching appeared to be one 'culture.' I also like the fact that we should use 'culture' vs race.

"Overall, I recommend others to see the movie; after all, racism is a taught trait and only through education can we eliminate such 'walls.'" -G.H., At Johnston Island
Next weekend Donna is taking the video over to the crew of the island's fire station. "I never give up!" she likes to say.
Please pray for Donna's outreach on Johnston Island. It just demonstrates that we can get out the Gospel, no matter where we live, using videos! "Creation evangelism" is certainly an effective way to spread the Good News to "the uttermost parts of the earth" (Psalm 2:8).
Donna O'Daniel(M.A. in Biological Sciences from the University of Texas, USA, 1987) is a seabird biologist who currently serves at Johnston Atoll National Wildlife Refuge. She has worked in a variety of remote places, including Madagascar.
Donna spent several years struggling to reconcile evolution's atheistic implications with her Christian upbringing. The day she arrived on Johnston Island in 1998, however, she totally surrendered to the Lord, accepting the truth of creation as presented in the Bible and rejecting the folly of evolution. Since then, she has done everything she can to get out the Gospel.
Read some of Donna's other outstanding ideas for creation evangelism in an upcoming commentary "Be creative for the Creator!"