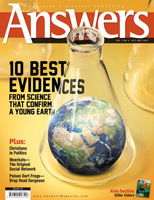 You've probably already heard about Answers magazine1 but did you know that you can get Answers online, too? Answers in Genesis is pleased to announce the release of the new magazine online. Today we are launching the new AnswersMagazine.com website with a sneak peek from the first issue (which goes to the presses this week). The new website will have several exciting features of its own:
Beautiful site design that closely matches the style of the actual magazine. Be prepared to be "wowed" with eye-popping graphics (and not just the frogs!) and professional layout.
The latest in internet technology. Keywords will make locating relevant articles easier than ever. As more articles are added over the next weeks and months, you'll get to see firsthand how this feature can help you tremendously with your personal research.
An interactive kids section. Answers in Genesis has long desired to provide first-class, trustworthy web content for children, and now an entire section will be devoted to your (and our) young ones! There will also be downloadable material for fun and educational uses.
A "techie" meter. Most articles are written for laymen, but if you have the desire, put on your "thinking cap" and read the semi-technical articles and get ready to be challenged. (And for the real "tech heads," we've got a feature just for you. Come back to the website tomorrow to find out more about our online technical feature.)
Subscriber-exclusive material. Every issue will have subscriber-exclusive online material accessible via a code printed in the magazine. But don't worry if you haven't subscribed yet—everyone will have access to these bonus features on this inaugural issue!
Answers in Genesis has a passion to provide you with high-quality materials to help you defend your faith, as demonstrated by the free content on our main website and, now, on the new Answers magazine website. Our first article, Bird Flu: Has It Evolved? is now available. We hope you enjoy the sneak peek of both the magazine and the website today, as well as the technical feature tomorrow!