You can experience a unique adventure for the family—digging dinosaurs with Buddy Davis! Those who have been on previous digs give rave reviews of this wonderful opportunity.
The Creation Museum partners with the Foundation Advancing Creation Truth and director Otis Kline to offer exciting Dinosaur Digs with Buddy Davis. This adventure takes place in eastern Montana. There are still places available for these upcoming trips.
Attendees might want to spend the weekend before and/or after in some of the amazing places that are located within a day's drive of Glendive, Montana, such as Yellowstone National Park, Black Hills of S. Dakota, and Glacier National Park, to name a few.
Participants spend the majority of each day out in the field, arriving back at the hotel in time to wash the dirt off and put on clean clothes—and maybe even take a quick nap—before dinner and the evening program. During the 2010 digs, the team found dinosaur bones and teeth, turtle bones and shells, figs, petrified wood, and more. Everyone found something, including some souvenir fossils they were able to take home! There were also other adventures such as touring a new museum with many dinosaur skeletons (exhibited from a creationist perspective), visiting Makoshika State Park and "prospecting" for a new potential dig site on a huge ranch.
Buddy Davis, dinosaur sculptor for the museum, musician, and popular AiG speaker, assists with the digs and provides exciting programs in the evenings for everyone on the dig team. Buddy has been on many dinosaur excavations, including one on the North Slope of Alaska.
You can find out more information on our website.
D Is for Dinosaur Gets a Facelift
The popular children's book
D Is for Dinosaur
has been given a facelift since being first published around 15 years ago. Here is the illustration for the new cover.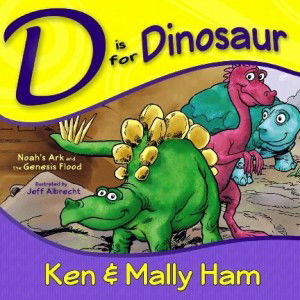 A Is for Adam similarly received a facelift recently.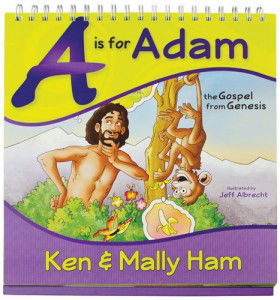 You can find out more about this very popular children's book on our online store.
I have heard more testimonies from children committing their lives to the Lord after reading A Is for Adam than from any other children's book that has had my involvement.
Keep watch for the new D Is for Dinosaur expected soon.
Thanks for stopping by and thanks for praying,
Ken