There is a time for everything, and a season for every activity under heaven: a time to be born and a time to die, a time to plant and a time to uproot (Eccles. 3:1–2 (NIV)).
Polaroid Babies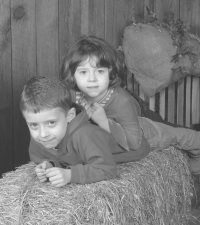 Let's be honest: It's a lot easier to make babies than it is to raise them—at least from a male's perspective, that is! There is no better example of this than my brother Ken. Over the span of a dozen years, he and Mally had five beautiful children. We called them "Polaroid Babies," because it seemed they could deliver children at the press of a button.
Ken's firstborn came into the world on November 10, 1976, in the rural town of Dalby, Queensland, in Australia. Mally had been in labor almost seven hours, but a lot of this was because of the size of Nathan's head. The doctor warned them that the baby had a large hematoma. Nobody was quite sure what that was, but it made his son look like he had two heads for a while. Oh well, like they always say, "Two heads are better than one." His baby pictures were cute though, and Nathan has grown into a fine man.
On February 22, 1978, Mally went into labor with their second child . . . and #2 sure knew how to make a grand entrance. Mally sensed right away that they needed to get to the hospital now. Ken tried counting contractions (you know, like a good husband is supposed to), but he couldn't count fast enough and called the ambulance in a somewhat panicked state . . . and of course the person who answered tried to be calm asking, "Mr. Ham, is this your first or second? How far apart are the contractions?" Ken blurted out something to the effect that what was happening wasn't normal and they needed to get there immediately. He was told, "Yes, Mr. Ham, we'll send someone. Just stay calm." They didn't believe him, so Ken took the issue to the top and called on Mum!
When Mum took one look at the situation, she knew the baby was well on the way. She had six of her own, but had never been on the receiving end of a delivery. She ran for the kitchen to make preparations. Ken was stressed out of his mind, praying like he had never prayed before, hoping the ambulance would show up. That's when Mally called for him. He raced to her side to see the baby's head appearing. He grabbed the baby as it delivered. Again relying on his vast medical experience gained from the movies, Ken held the baby by the feet and spanked it — and the baby started to cry, just like it was supposed to. Then he remembered seeing doctors clean out the baby's mouth, so he put his finger in its mouth and kind of moved it around, hoping it cleared whatever it was supposed to.
Again Ken remembered hearing that people have used their boot laces to cut the umbilical cord, so he pulled out his boot lace and then stood there, without a clue of what to do next. Right at this time, a lady that Mum had called rushed in. She was trained as a midwife and calmly took over. She took the bootlace and tied the cord, and prepared Mally for the ambulance. As the paramedics walked up the stairs, Ken handed them a baby, mumbling something about the fact that they should have believed him!
At the hospital, one of the nurses asked Ken, "So, is it a boy or girl?" Ken embarrassingly replied, "I don't know, I forgot to look!" After they checked, they named her Renee Elizabeth. Mally was in labor for only 45 minutes, and we'll never know for sure if this had some sort of lasting effect on Renee—but she became a nurse and learned how to deliver babies!
Mally and Ken were so sure that #3 would be a boy that they named him Daniel ahead of time. He saw the light of day after only 40 minutes of labor . . . but after one look, they decided to name "him" Danielle instead.
Child #4 came in 1984. On September 29, Mally told Ken that it was time. Ken called the ambulance company, who (now well aware of the history of the Ham family) made it to the door in about 17.3 seconds. Still, Jeremy was born halfway to the hospital, only 11 minutes after the first contraction. He delivered in the back of an ambulance early in the evening, under a tree overlooking the city of Brisbane. Ken told Mally, "At least you had a nice romantic view of the city while he was being delivered!" (Mally didn't seem to appreciate that comment for some reason.)
On February 25, 1988, while in Chicago preaching at a church, Ken was given a note telling him that #5, Kristel Ruth, had been born. This sort of interrupted the service, as you might imagine! Ken would have liked to have been there for that birth, of course, but Kristel only gave them 38 minutes of warning and Ken was about two thousand miles away.
It's certainly humorous to look back on all this and reminisce about Ken and Mally's exciting births. I would love to tell you lots about the birth of my own children, but during both births I was using all my own concentration and a lot of assistance from the nursing staff just to keep my dinner down and prevent myself from fainting. Both Sarah and David arrived safely into the world despite my wife's poor excuse for a supportive husband. I am just glad that Trish talked me through the labor and kept me concentrating on my breathing.
Inducing the Environment for Sanctification
Yes, some kids are relatively easy to deliver, but all are a challenge to train. We've established that the Word of God is the one and only foundation of a godly legacy. We've seen that compelling conviction, a personal relationship with Christ, and a clear understanding of our roles and responsibilities are the three essential components needed to leave a godly inheritance for the generations to come. As we now turn our thoughts to the "how to's" of training godly children, we must realize that one of our primary goals is to orchestrate a household atmosphere for sanctification.
Sanctification is the ongoing process of becoming more like Christ (an entirely different process than secular "behavior modification"). It's important to acknowledge that sanctification only happens through the power of the Holy Spirit, yet an environment focused on the correct teaching and application of God's Word is an environment that is consistent with the Holy Spirit's work. If our God is truly sovereign and all knowing, surely His instruction is supreme and sufficient to guide our family into this holiness!
God's good and perfect truth is revealed to us in His amazing Word. As we established in Part 1, that is the foundation—the rock-solid base for building a godly legacy. So how do we build upon this foundation? How do we create an environment for spiritual growth?
By communicating to our children both the
content of the Bible and the authority of the Bible.
Building with the Content of the Bible
In many homes, a Bible is a symbol of religion. Like an icon, it sits on the shelf representing some sort of affiliation of spiritual devotion. This was never what the Word of God was intended to be. Hebrews 4:12 says:
The Word of God is living and active and sharper than any two-edged sword, and piercing as far as the division of soul and spirit, of both joints and marrow, and able to judge the thoughts and intentions of the heart.
The Bible is God's message to humanity and the family. The message is alive, and the meaning of that message is essential to everyone who desires to create an environment of sanctification in the home. The communication of truthful biblical content is non-negotiable.
The apostle Paul clearly understood and enunciated this in his writings. Throughout the Epistles, Paul gives a number of instances where false doctrines have affected the Church. Consider 1 Timothy 1:3–7. Look closely at this passage as Paul, under the inspiration of the Holy Spirit writing the infallible Word of God, confronts the clash of false biblical teaching with purity, conscience, and faith:
As I urged you when I went into Macedonia, stay there in Ephesus so that you may command certain men not to teach false doctrines any longer nor to devote themselves to myths and endless genealogies. These promote controversies rather than God's work — which is by faith. The goal of this command is love, which comes from a pure heart and a good conscience and a sincere faith. Some have wandered away from these and turned to meaningless talk. They want to be teachers of the law, but they do not know what they are talking about or what they so confidently affirm (NIV; emphasis added).
In this passage, Paul exhorts Timothy to deal head-on with false doctrines, because such doctrines are incompatible with love, a pure heart, good conscience, and a sincere faith.
Note the connection between love, purity of heart, clarity of conscience, and sincerity of faith. These things are impacted by truth and the basis for truth, which is sound doctrine. The very position Paul comes from is a position of love abounding in purity, good conscience, and sincere faith. Because of this position, there is no room for the tolerance of false teaching. It stands to reason that sincerity of faith, purity of heart, and good conscience are only compatible with truth, and that truth only comes from the actual words of Scripture. Thus, a compromise in truth compromises love, purity, conscience, and faith.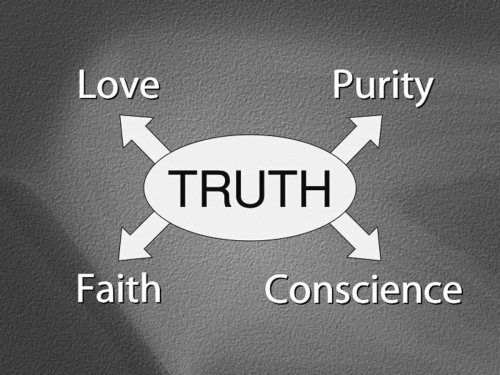 As Christian parents, our love for our children is enormous. I am sure that the last thing we want is for our children to have a dented, stunted, or non-existent faith. Faith comes from God, yet we must also acknowledge that we have been given a responsibility to provide a growing environment for strengthening the faith. A loving parent surely has a desire for their household to be a growing environment for sanctification, one that is built on the authority of God's Word.
At this stage we shouldn't overlook a very important point:
For our children to grow in a strong basis for the belief and defense of Scripture (and thus a strong basis for their faith), they need to be taught that the content of Scripture is real, not just symbolic or illustrative.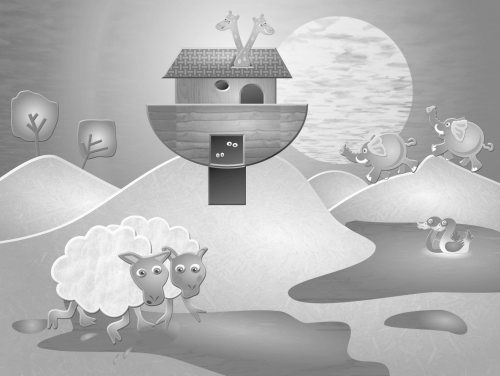 One of Ken's pet hates is the concept of "Bible stories." Parents and Sunday schools around the world are innocently teaching children what we call "Bible stories," normally illustrated with unrealistic childlike illustrations. Noah's Ark, for example, is typically shown as a beautifully drawn little overloaded boat showing animals with their smiling faces hanging out the windows. However, nearly all of these "arks" would potentially sink at the first sign of water, let alone the oceanic turmoil the true Ark faced during the Flood. Also, these chubby little boats are not even close to the size required to fit all the animal kinds on board. . . . I guess that's why the animals always have to poke their heads out of the windows!

Now some of you are probably saying, "Come on. It's okay, they're only kids!" The sad fact is that the statement is true! They are only kids—kids that are vulnerable, teachable, and open to influence from us—and everyone else. Many don't seem to realize children are very impressionable and open to every influence from the world. They are susceptible to every destructive, Bible-doubting idea around. When we present God's Word as "stories" and illustrate them in a way that gives the impression they are a fairy tale, can a child differentiate between Scripture and Aesop's Fables? I don't think so. When will we start becoming serious about teaching our children biblical truth, instead of biblical tales? Keep in mind that the world scoffs at the account of Noah's Ark and the worldwide Flood—such fairy tale looking arks actually help them scoff.
My father carefully constructed a scale model of the real Ark from the dimensions given in the Bible. It is a beautiful piece of work, meticulously re-created and crafted. Dad certainly wanted to ensure that people understood that the content of God's Word could be trusted; and we need to do the same. Never present the Bible as anything less than it is: The living Word of God. The main point is that as we were taught content, we were also taught the trustworthiness of the content and that the content was real. Dad always reminded us that the message was from God and that the Bible dealt with objective truth.
Certainly there is a place for children's stories, symbolism, and allegory in our training. The fictional works of C.S. Lewis and John Bunyan are excellent examples, but whenever you open the Bible, make sure that your children understand that the content of this book is real. When it comes to holidays, make sure that your children understand that there is no correlation between the reality of our Savior Jesus Christ and the fictional Santa and Easter Bunny, etc. Trish and I have never used Santa Claus in any part of our family Christmas celebrations so that we don't cause confusion in this area.
An environment for sanctification cannot happen without the content of the Word being regularly communicated as truth to the child. At the same time, please know that faithfulness and not perfection is the key to effectively communicating the content of Scripture. I asked Ken and Mally what they did in regard to teaching biblical truths to their children. They told me this:
Devotions in our home have never been perfect. We just called it "Bible time." The kids got used to it and came to love it. When they were little we would start with a good picture Bible, and tell them the history and details of what was going on in the pictures. As they got older, we would read to them from the Word, and then have them read to us.

As they grew, it became more than just reading the Bible, it became a time to communicate a biblical worldview. We read books like The Pilgrim's Progress, Leading Little Ones to God, and a fictional series called Minni and Maxie Muffin. It was a great time, and we all learned a lot. It also made a statement. Every time we had Bible time, it communicated that the Book we held in our hand was important.
My own children (David and Sarah) have become competent readers, and we strongly encourage them each night to have their own "Bible time." We assist them by providing study aids that can help them investigate the Bible for themselves . . . but we are always extremely careful when it comes to such material. We have had some significant conversations with our daughter about the extra-biblical comments in the margins. This careful monitoring of biblical aids has helped us teach our children discernment and helps them understand that there is no substitute for the Word of God. If you are looking for trustworthy material to help your children develop their own devotional habits, I recommend a book called A Faith to Grow On, by John MacArthur.
Again, strive to be faithful and not perfect as you train your children in the Word. If you think you are going to organize in-depth exegetical surveys of Scripture and keep it up on a systematic schedule, you are probably mistaken. (Or you will feel so overwhelmed that you won't even attempt anything.)
The key is to set some time aside on a
somewhat regular basis so you can share the
content of Scripture with each other.
Over the years, these humble efforts will have a significant impact on your heart and the souls of your family.
Building with the Authority of the Bible
Creating an environment of sanctification in a home requires that we communicate the authority of the Bible as well as its content. When it comes to children (and everyone else for that matter), a truth-driven and authoritative foundation is of the utmost importance. Remember, we are relying on God's Word to establish a basis for faith, and not some unsubstantiated idea.
When we want our children to acknowledge faith in God, they must also acknowledge the authority of that God. Therefore, as we read God's Word to them, we must read from an authoritative position. When we display the truth and authority of Scripture, it will help our children see the curse of sin in the inaccuracies of this world's teachings, and the fallible and corrupt nature of man.
It is therefore imperative that we have a good understanding of the essential doctrine of "The authority and inspiration of Scripture." Consider God's words in 2 Peter 1:19–20:
And we have the word of the prophets made more certain, and you will do well to pay attention to it, as to a light shining in a dark place, until the day dawns and the morning star rises in your hearts. Above all you must understand that no prophecy of Scripture came about by the prophet's own interpretation. For prophecy never had its origin in the will of man, but men spoke from God as they were carried along by the Holy Spirit.
The very definition of the word "authority" is "the right or power to require obedience." Peter plainly asserts that Scripture came about not by men under a light influence of God, but by men completely under the influence of God in the direction of every word. If every word is God's Word, then every word is authoritative—and every word in every subject.
Dr. Martyn Lloyd-Jones is known as one of the most influential evangelical leaders of the previous generation. He was also a great model of Christian parenting. (I highly recommend the reading of his biography, A Family Portrait.) In a series of lectures on evangelicalism entitled What Is an Evangelical,1 he said:
The basis of faith says, "We believe in the divine inspiration and entire trustworthiness of Holy Scripture as originally given, and its supreme authority in all matters of faith and conduct." I contend that it is not enough just to say that; we have got to go further. There are people who claim to subscribe to that doctrine, who, I would suggest, in some of their statements raise very serious doubts as to whether they really do accept it.

So we have to say some specific things such as that the Scripture is our SOLE authority, not only the supreme authority, but our sole authority, our only authority.

Then the next thing to be said under this heading of scripture is that we must believe the whole Bible. We must believe the history of the Bible as well as its didactic teaching. . . . Today there are men who say, "Oh yes, we believe in the Bible and its supreme authority in matters of religion, but, of course, we don't go to the Bible for science; we go to it for help for our souls, for salvation, and help and instruction in the way to live the Christian life." They are saying that there are, as it were, two great authorities and two means of revelation: one of them is Scripture and the other one is nature. These, they say, are complementary, they are collateral, and so you go to the Scriptures for matters concerning your soul, but you do not go to them to seek God's other revelation of himself in nature. For that, you go to science. . . .

Their argument was that they were merely out to defend the truth of the gospel against this natural science—and let us grant that their motive is good and true. Our friends today are doing exactly the same thing. It seems to me that in so doing they are on the path that always ends in the same result, namely that the gospel itself is compromised. We must assert that we believe in the historicity of the early chapters of Genesis and all other biblical history.
To create a godly environment of sanctification, we have to stand with men such as Dr. Martyn Lloyd-Jones and teach and defend the authority of the Bible in regard to every word. If we allow teaching that compromises the authority of God's Word to infiltrate our household, we essentially compromise the sanctifying environment of our homes. We need to let our children see us taking this stand, even against high-profile Christian leaders if necessary, to honor God and show that we are serious about a strongly substantiated faith in Him as Almighty Creator.
This doesn't mean that we are all to be like Pharisees, just looking for legalistic arguments around points of law. In fact, an adherence to the authority of God's Word would have us understand that abstract legalism is harmful.
Our father would often read commentaries to allow other God-fearing men to help him to a deeper understanding of Scripture, but the Bible was always his sole source of truth. Especially when it came to essential doctrines, my father would often point out to me where a particular author's statements did not correlate with Scripture. This was a dual defense on his part. He was defending the content of the Word and the authority of God's Word by showing that man's words and opinions were subordinate. In doing so, he was also defending our household against humanism, mankind's fallible nature, and their attacks on our home. That is why my father often said to me, "The Bible is a great commentary on commentaries."
Faith substantiated by the Word is essential. Every time our children walk out the front door of our home, the world is waiting to attack their faith. Even inside our homes, television sets are constantly telling them that biblical truth does not match modern science. Even many Christian schools and Christian resources teach our children humanistic principles that point to the Bible as an untrustworthy source of information.
From Paul's teaching, we have clearly seen that the content and authority of Scripture is inseparably linked to the issues of love and faith. Yet, we need to ask a question: How many households of good Christian intention are building an environment of sanctification with these things? The foundation of the Word of God is the beginning of a home built on the content and authority of that Word. God created it that way in love for the good of the faith in our children.
This is where I get to stand with all of my brothers and sisters, and say how blessed we were to have parents that not only had good intentions, but backed them up by standing on the authority of the Word of God. They taught not only the content of the Word of God to us, but also continually helped us to see the authority of the content.
As the youngest in my family, I had the added benefit of being influenced by the ministry of my brother Ken from a very early age. My earliest memories are of being taught logical and consistent answers to the world's attack on my faith. Sadly, many of these answers had to be used against attacks from within the church.
Our Dad's Example Prevails
Everyone who knew our father well will remember walking up the front stairs of our home and looking through the screen door to see him in his favorite chair. The chair had been given to him as a retirement gift after he left his education career for health reasons, and he sometimes spent the better part of the day sitting, reading, praying, and thinking in it. He usually had his Bible in his hand or open on his lap. Often he would be speaking softly to himself, reinforcing the truths he was learning. I can even hear his whispers now. Those whispers are whispers God used to save my life. Dad focused on the environment for sanctification in our house, starting with a focus on sanctification in his own life.
Dad was passionate about me knowing the truth of Jesus. Often I would sit across from him as he sat in that old chair. I can almost still hear his voice as he spoke the same words Solomon spoke to his son, "Listen to me. Listen to wisdom." He wasn't just trying to get his point across; he wasn't trying to manipulate me to modify my behavior. He wanted me to hear the Word of God. I am so glad that even when I didn't want to hear it, he told me anyway . . . because that teaching is what God has used to bring me into a closeness with Him—a closeness that I now experience nowhere else.
My father never took a parenting course. He knew that the courses and theories of man come and go. Instead, he gave me something that would last forever:
He gave me authoritative instruction from the Bible,
and allowed me to view Christ in him.
That was the best environment for my sanctification that I could ever imagine.
Key thoughts from this chapter:
Building a legacy requires providing an environment where your children can meet and grow in maturity in Christ.
An "environment for sanctification" is built by communicating the content and the authority of the Bible.
The content of Scripture must be presented as being real.
The authority of Scripture must be presented as being absolute and all encompassing.
Maturing in faith, purity, and conscience is directly co-related with truth. Without a foundation, truth, faith, purity, and conscience are compromised.
Building blocks:
Always delineate between fact and fiction when reading to your children, making sure that the Bible's history is presented as truth.
Talk about scriptural truth in normal conversation, ensuring your children understand biblical reality and its impact on day-to-day living.
Regularly spend time with them discussing scriptural truth through devotions, what they learned in Sunday school, or from their friends. You will be amazed at what a scriptural view will open up for them and correct what they have already heard!
Work out a flexible strategy to communicate both the content and the authority of God's Word faithfully, not perfectly!
When appropriate, allow your children to view you as you study, teach, and defend the Bible.
Questions to consider:
Consider Paul's exhortation to Timothy: "

. . . command certain men not to teach false doctrines. . . . The goal of this command is love, which comes from a pure heart, and a good conscience and a sincere faith

" (1 Tim. 1:3–5). Where have you seen false doctrine interfere with love, conscience, and faith?
In what settings have you experienced both the content and the authority of Scripture being communicated? Would you say these experiences are the exception or the norm?
In what ways can you, as a parent, build a stronger environment for sanctification in your home?
Resources and tools:
Christopher Catherwood, Martyn Lloyd-Jones: A Family Portrait (Eastbourne, UK: Kingsway Publications, 1995).
John MacArthur, A Faith to Grow On (Nashville, TN: Tommy Nelson, 2000).