Speaking of . . .
We're on a roll with our new Answers Outreach site, and the new features just keep coming.
Last month we launched a completely redesigned site with an assortment of features to make finding and requesting events easier than ever—not to mention the attractive interface. This month we have unveiled a new way for you to get to know the Answers Outreach speakers.
Many of the names you probably already know: Ken Ham, Carl Kerby, Dr. Jason Lisle, and several others. But you may not know some of the work they've done to proclaim the truth of God's Word.
We've always had biographies of the various speakers that give you insight into the work God has done in their lives. But these new pages delve a little deeper and show why they are so passionate about taking the creation-gospel message as widely as possible.
The first thing you'll notice is that the speakers' pages have been completely rearranged and reinvented to make information easily accessible at a glance. What once you had to search for across our site is now conveniently tied together in one place.
For instance, each speaker page now includes popular Video on Demand segments from the particular person and other media. This will give you an idea of the types of presentations that each speaker has given. You'll also find their upcoming event schedule so that you can plan to see them in a town near you.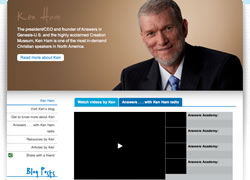 The speakers' pages also list the most popular articles they've written for the Answers in Genesis family of websites. And what we particularly like about the redesign is that many speakers will also have individual blogs. There you can keep up with their thoughts, research, travels, pictures, and more.
Now you can journey along with our speakers as they travel the country—and world—to proclaim that God's Word is right from the very beginning.
But don't just take our word for it. Click on over to the speakers section or the new Outreach site and take a look for yourself.
What's in Store for this Month?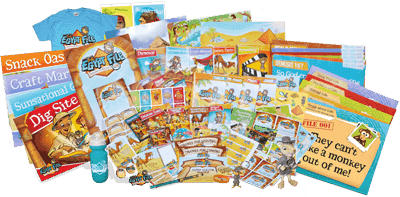 In 2008, Answers in Genesis introduced a new kind of VBS program—one that emphasized the importance of the Bible as the foundation of our faith. Children explored the Amazon and learned the real history the universe. The next year, they soared to outer space and discovered that God reveals Himself in His Word.
Are you ready for 2010?
Earlier this year we launched our AnswersVBS website and introduced new ways to make your VBS a success, including forums to share ideas, FAQs, and ways to organize your resources and volunteers. The response has been tremendous.
But we didn't want to stop there. Thanks to some great feedback, we recently unveiled the new AnswersVBS site to correspond with our next VBS program, The Egypt File: Decoding the Mystery of Life.
Children need to know the Bible is more than just a book of stories. They need to know that it connects to real life—right here and right now. The history in the pages of God's Word is the true history of life on earth. Most of all, they need to learn that they are special creations, made in the image of a loving Creator.
While experiencing the wonder of ancient Egypt, they'll uncover the truth about human origins, the amazing design of the human body, the problem of sin, the value of life, and the need for each other. This VBS packs a punch.
The new AnswersVBS site needs no decoding, however, since it's designed to give you a quick—yet thorough—look at the new VBS. You'll find videos, music samples, images, downloadable guides, decorating tips, and more.
Beyond that, you'll also find a great help section to make your next VBS the best one ever. Visit our expanded forum for interaction with other churches and church leaders (as well as our own curriculum expert Stacia McKeever). Scroll through our Bible and Science FAQs for easy access to some of the most-asked questions that children (and their parents) have. And dive into our VBS articles for tips on making changes to the format or other concerns.
A VBS program involves a great deal of work and prayer. Let Answers in Genesis come alongside you to provide the materials—and answers—you need. Your Egyptian adventure has just begun.
Question of the Month
I wrote an article that would be perfect for your website. Will you consider publishing it?
Answers in Genesis has a long track record of providing relevant, scholarly articles and papers on the most important issues of our day. We have regular staff of in-house, associate, and freelance writers who provide most of our content on a daily basis (not to mention our stable of editors and reviewers). This means we can respond as quickly as possible to news stories, media, and controversies with biblical clarity and accountability.
Because of the timely nature of the stories on the website, we rarely accept unsolicited material. While we are grateful for those who think of us for submitting article ideas, we don't have the time or staff to parse through them and pick out the best so that they can be reviewed, revised, and published while the issue is still "hot."
In addition, we are also very selective in choosing authors to publish. This often means that we work with authors who are either well known for their theological or scientific acumen or with whom we are acquainted by reputation or relationship.
However, there are other ways to submit articles and papers. For instance, Answers magazine invites any aspiring writer to submit article ideas. Answers Research Journal is also open to well-written, well-researched papers within a biblical worldview. Finally, from time to time, writing positions become available in our job postings.
If you want to write, we certainly applaud your effort and passion. There are many ways that you can practice. Write letters to the editor to share what the Bible says, blog about important issues, and let your stand on the authority of God's Word be heard. You don't have to publish your article on our site to make an impact.
(Have a question for InSite? Let us know! Be sure to mention that your question is intended for InSite.)
Did You Know?
Did you know that nearly eight million readers have visited our website this year? That amounts to over 23 million pageviews making the Answers in Genesis sites some of the most popular and most visited Christian destinations on the web! Help us keep making an impact by spreading the word about Answers in Genesis and the Creation Museum.
About InSite