Answers Research Journal
Reaching 502 pages for this year's volume number six, the 30th and last ARJ paper for 2013 entitled "Recent, Functionally Diverse Origin for Mitochondrial Genes from ~2700 Metazoan Species" by Dr. Nathaniel Jeanson of the Institute for Creation Research completed a record publication year for the Answers Research Journal in terms of both numbers of pages and papers, twice as many of both as any previous year.
This year, multiple, important topics were tackled, including: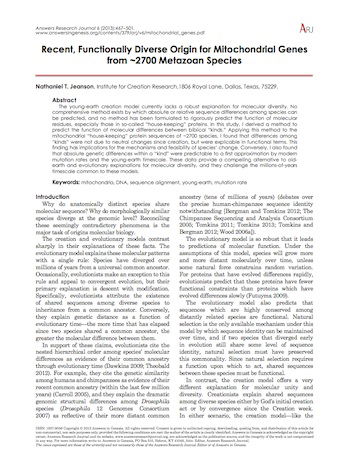 Cutting-edge creation research. Free. Answers Research Journal (ARJ) is a professional, peer-reviewed technical journal for the publication of interdisciplinary scientific and other relevant research from the perspective of the recent Creation and the global Flood within a biblical framework.
Papers are already lining up for next year's volume 7, which again promises to be another bumper publication year. More papers on the Genesis kinds are in the pipeline on turtles, crocodiles, snakes and tuataras, and research papers from AiG's own research scientists, including papers on craters, the cosmic microwave background, radiohalos, and the radioisotope dating of the various groups of meteorites. Look for the first paper of 2014 next week.
The Answers Research Journal also made two other notable achievements in 2013. First, the online encyclopedia Wikipedia in its entry discussing "Mazzaroth" cites Dr. Danny Faulkner's ARJ paper on "A Further Examination of the Gospel in the Stars." So the Answers Research Journal is certainly being widely read, and obviously appreciated as being scholarly and authoritative.
Second, a paper in the Answers Research Journal has even been cited in the specialist geological literature. In the November issue of The Journal of Geology (volume 121, number 6, pages 607–622), in their paper on "Pediments as etch forms: Implications for landscape evolution", Professor C.R. Twidale and Dr. J.A. Bourne of the University of Adelaide in Australia referred to and referenced their Answers Research Journal paper in volume 4 (2011), which was discussing a paper we published in the Answers Research Journal on the geomorphology of Uluru (Ayers Rock) in central Australia from the Biblical perspective of earth history. So these mainstream scientists were not reticent to reference their work discussed in the Answers Research Journal.
We thank our authors, reviewers, and mostly our Lord, that AiG's online Answers Research Journal is growing and gaining strength as a premier destination for serious creationist students and researchers to visit to be informed. Be a part of this growing creation research publication. Interested authors should download and read the Instructions to Authors Manual (PDF) for all details of requirements, procedures, paper mechanics, referencing style, and the technical review process for submitted papers.
Answers in Depth
Since ARJ has been so productive this year, although we had plenty of AiD articles (many of which are already queued for 2014!), we just couldn't run as many as some past years on our "techy Wednesdays." But, between the two, this meant there was rarely a break in new technical and semitechnical articles for our indepth readers.
We began the year with a series on postmodernism, offered detailed responses to issues that came up this year, such as Au. sediba, human cloning, Dmanisi, and soft dinosaur tissue preservation. We also published some indepth studies on Malaria, fossil stromatolites, and Welwitschia and reviewed the controversial Killing Jesus book. Keep up to date with these and other recent semitechnical articles here.
Web
And on the website, generally, we thought you might want to see what articles generated the most interest this past year:
Blogs
Did you know that several of our speakers (including Ken Ham) have a blog? Check out what your favorite speaker has to say.
Online Books
This year, we worked on publishing three books online (of course, these books are also available as hard copies, and some are also available as ebooks in our online bookstore). Answers in Genesis is burdened to make sure that biblical answers to tough questions are available to everyone. Often printed books are a great way to spread the news that God's Word can be trusted, but sometimes having a free resource that's searchable and printable on the web gets the word out to even more people. That's why Answers in Genesis, often thanks to Master Books, a division of New Leaf Press (Green Forest, Arkansas), has been publishing books online for years. One of the first we did was Ken Ham's The Lie: Evolution , which just celebrated its 25th year in publication, and in 2013 we prepared and published the following books as web articles by chapter:
How You Can Help
Naturally, a lot of time and money is spent on just maintaining a website, not to mention populating it every year with hundreds of new resources reaching laypeople, researchers, children, faithbuilders, and even skeptics—around the world. When a ministry is so committed to providing a huge resource for free, it comes at great cost. The "end-of-year" donations may be over, but the costs for 2014 are just beginning. Please consider aiding us in reaching more people in 2014. But, most importantly, please pray for our researchers, writers, editors, reviewers, developers, programmers, volunteers, and so many others that are committed to strive for excellence on behalf of our great God and to reach more people with the message that the Word of God can be trusted from the very first verse, and that in it are the words of eternal life. And thanks for your prayers and support in 2013!