At last! AiG illustrations now available!
About twenty years ago in Australia, when I first began teaching on the subject of Genesis and creation/evolution, I realized that the best way to communicate to students-or to any audience-was to use illustrations.
I remembered the adage "a picture is worth a thousand words," and so I set out to attempt to illustrate every major point I made in my talks with an illustration. But even though in my mind I could conceptualize what I wanted, the Lord did not give me any artistic skills whatsoever!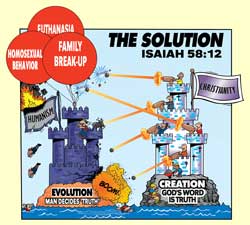 At the same time, the Lord brought artist Steve Cardno (who is now the main graphic design artist who puts our beautiful Creation magazine together) into the Australian ministry. Steve, who had a bent toward doing cartoons, was unique: he not only understood the messages I was giving, but was able to take my concepts and illustrate them in a powerful-and sometimes humorous-manner. Out of this came what many call our classic illustration, the so-called "Castle Diagram," which has now become synonymous with the Answers in Genesisministry.
When my family and I moved to the USA fourteen years ago, I continued to use Steve to produce additional illustrations. People commented over and over again how they greatly helped them understand the messages I was giving, especially as overhead transparencies projected on large screens at seminars. However, Steve's time was being used more and more to enhance the quality of Creation magazine.
When we began Answers in Genesis in the greater Cincinnati, Ohio (USA) area (in northern Kentucky) just over seven years ago, I was praying for a solution to what I saw as a vital need to produce more such illustrations-and to continue to improve the ones we already used. For instance, the original diagrams were black and white; but technologies were changing then, and computers and color copiers were now becoming commonplace-these new developments could take our illustrations to a new level!
In 1995 I met artist Dan Lietha (who has been full time with Answers in Genesisnow for about 4 years). I immediately saw in Dan similar qualities to those found in Steve Cardno in Australia. Dan was a cartoonist. He had already produced a number of cartoons on the creation/evolution issue that showed he had a unique grasp of the AiG message.
In his spare time, Dan listened to tapes of my messages and watched videos of our talks over and over again. It was so clear that the Lord had given him a unique talent to take the concepts I wanted to communicate and then draw an illustration that truly is "worth a thousand words." After two years of doing part-time work for us, Dan left his full-time secular job in Minnesota to come on full time with AiG. God was so good!
One day I approached Dan and said, "I need an illustration to really hit people between the eyes to understand that if Christians believe in millions of years, then they have to accept millions of years of death and suffering before sin-before God declared everything very good. Can you try and illustrate this for me?"
It wasn't long and Dan came back with the following diagram: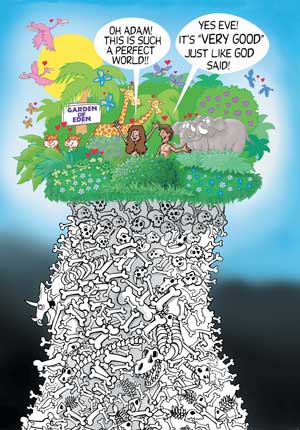 Wow! One picture… and it says it all! How I praise God for Dan's talents.
Over the years, we have now produced many hundreds of illustrations. Those who have attended our seminars or have seen my talks on video know that I sometimes use up to 200 illustrations in one lecture (about 3 per minute)!
Each time I give my presentations, I have numerous people come up to me and plead with us to make these illustrations available so that they, too, can teach these important messages in churches, schools, Bible studies, and other places.
Well, we are thrilled to announce the following:
Beginning this Friday, March 16, 2001, we will be making available on this Web site-and every Friday-one of these illustrations (free of charge) that can be downloaded or printed out for your use! Each diagram will be accompanied by an explanation as to how to teach from it. Over time, these illustrations will build to a great library for people to use to teach the Creation/Gospel message.
To start this exciting free service to you, we will offer seven of my favorite illustrations on Friday, March 16, including the famous "Castle Diagrams." Because of computer programming challenges (the process is quite an involved one), we will be offering this service just once a week.
By the way, we are starting to produce a CD ROM that will contain these illustrations that can be used for making overheads or for use in "Powerpoint" presentations, accompanied by explanations, lesson plans, and discussion sheets. It will be some time before the first CD ROM is available, but this project is now underway. We'll announce the CD's availability on this Web site.
And please, let us know that you are using these illustrations, and especially let us know of any exciting testimonies that may result of any teaching you do with them.