I am holding firm. The biblical heritage given to me from my father was really a gift from God, a special and gracious gift from my Father above. I am holding firm.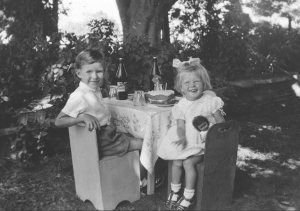 I was born the same year that Ken and Mally met. In fact, my earliest memories of my eldest brothers and sisters are of them with their own infant children. Being the youngest of six children hasn't always been easy. If you have the same "youngest child syndrome" you will know exactly what I am talking about. (For those of you who don't, being the youngest in the tribe is all about doing your best so you'll be recognized by your siblings as someone other than "just the baby.")
In our family, though, there were also great things about being "just the baby." For starters, my parents had lots of experience by the time they got to me. Ken left home to make his own with Mally when I was barely two years old, and I left home to make my own with Trish when I was 18. My parents were parenting for 38 years with children at home, and we all testify that their foundational parenting platform was a commitment to the Lord Jesus and the belief in every line of His revealed Word.
On top of this, I have also been able to witness the Christian commitment of my parents and my elder brothers and sisters. I've experienced a godly legacy being transferred to me as a child and as a sibling. While still a child myself, I watched as my siblings displayed godly parenting in the upbringing of their children—a rare and effective form of mentoring from which I greatly benefited.
Then, after my siblings were off and married, I had the distinct blessing of living as the only child under the roof alone with my mother and father. Looking back, there were times I wish I had had a better attitude and love toward them (I was a teenager in every sense of the word). In spite of me, those years had a great impact on my life as I had the opportunity to simply view every action of my parents without the distractions of having my older brothers and sisters around.
In my memory, I have a very simple yet clear picture of the home I lived in, and three things stand out: my mum, my dad—and a Bible on his lap.
Our father had a relatively simple approach to life, yet it proved to be very powerful and influential:
Dad believed God's Word, and he stood firm on it.
He did not hold the pages of God's Word above God himself, but his deep and uncompromising love for his Savior and Creator gave him a passion for every word of Scripture and the strength to stand and uphold it. The more he read and understood his Bible, the more passion and strength of relationship he had with God . . . and the stronger the relationship became, the more his passion for the Word grew.
I am so thankful that my father took the time (and a lot of it) to study the Bible, and apply its teaching. When I look back at my father's parenting skills, I see another very simple method:
Read the Word, believe the Word,
defend the Word; live the Word, teach
the Word—and expose these
things to your children relentlessly.
So many of us as parents—particularly fathers—are not paying enough serious attention to the study of God's Word. In the short run, it is so much easier to leave careful Bible study to the experts and focus on our own perceived talents. We look for excuses as to why we are not interested in biblical study and biblical family instruction. We look for an easy way out. We look for someone else to do it for us.
Psychology and Substitution
The easy way appears to be for us to turn away from the simple instruction of God's Word, gathered through personal study, and place our trust in a cosmic blend of biblical and psychological ideals and teaching—teachings that more often than not are contrary to the Word of God alone. It is so important that we all realize that there is no substitute for God's Word in any family. The apostle Peter challenges us to "as new born babies, long for the pure milk of the word, so that by it you might grow in respect to salvation" (1 Pet. 2:2). No radio or television program, counseling materials, or parenting course can possibly be a substitute for the revelation of our almighty, all-knowing God. Not only that, but the Bible has all the instruction we need to raise a godly family. Keep in mind that the Bible was the only resource many of our parents had!
So many of us today think that "parents plus children and a Bible" is a much too simple formula for raising godly children. With all of the parenting courses available these days, parents are led to believe that they have no hope of competent parenting unless they have some strategy given to them by a capable professional. Especially in Christian circles, we spend lots of money and time going to courses in hot pursuit of the right parenting model for our family. I am not saying that doing a parenting course is the wrong thing to do. In fact, there are some good parenting courses providing very practical and helpful tools. The questions remain: What if we had no parenting programs? What if we had no self-help courses? What if we had no trained psychologists? What if the only parenting book in the household was a Bible? Would that be sufficient? Could that even be preferred? In Isaiah 28:29 we read:
This also comes from the Lord of hosts, Who has made His counsel wonderful and His wisdom great.
If God has the greatest wisdom and the most wonderful counsel, who can possibly provide a substitute? Books and courses authored by fallible human beings can never take the place of God's Word, nor is there any need for them to do so. The Bible is sufficient and authoritative, and when interpreted properly it gives us all the guidance and information we need to create a godly heritage.
That goes for this book as well. My words and Ken's words could never, and should never, be a substitute for His infallible words. However, if this book inspires you to do everything you can do to accurately and passionately handle the Word of God, then Ken and I will have passed on some of our heritage to you—the same legacy given to us by our parents. This inheritance has been the foundation of our lives and our families, and it is the one that God has used to grow the ministry of Answers in Genesis, which is built on the truth in relation to the sufficiency of Scripture for all we need to know. As Christian parents, the Bible proves its instructional sufficiency to us in many ways. There is no need to look beyond its guidance.
The Function of Scripture
The apostle Paul and Timothy shared a beautiful discipling and mentoring relationship. At the center of this relationship was the Word of God. In 2 Timothy 3:16–17, Paul gives Timothy the reason why Scripture is such a powerful instrument for developing strong Christian convictions and the pursuit of godliness:
All Scripture is God-breathed and is useful for teaching, rebuking, correcting and training in righteousness, so that the man of God may be thoroughly equipped for every good work (NIV).
Let's dissect this vital passage and hear what Paul was communicating to Timothy.
All Scripture Is God-breathed
The Bible is not ours; it's God's. In His awesome power and majesty, God trained a select group of ordinary men and had His Spirit fill their hearts and minds with supernatural inspiration. Through this wondrous sanctifying work, they wrote the very words of Scripture. When it comes to biblical authority, the Westminster Confession of Faith says:
The authority of the Holy Scripture, for
which it ought to be believed and obeyed,
does not depend on the witness of any person
or church, but entirely on its author, God (who
is truth himself) and therefore it is to be
received because it is the Word of God.
God is the ultimate witness to the sufficiency of His Scripture because God IS.
The Word of God is of God—fear it.
All Scripture Is Useful for Teaching
When Paul says to Timothy that Scripture is "useful for teaching," we must acknowledge the context in which he is using the word "teaching." "Teaching" can mean the actual process of communicating and training, or the content of what is being taught (the very truth that is within it). In most cases, when we refer to the "teaching of Jesus," we refer to the content rather than the process. In this passage, the Greek word translated "teaching" is didaskalia, which relates to the content of the teaching. (The KJV translates it unambiguously as "doctrine.")
This is a significant point, for today in many of our pulpits across the Christian world, God's Word is used within the process of teaching, rather than being the very content of what is to be taught. Paul is not telling Timothy to use Scripture within the process of his teaching, but to use it because it is completely useful through its content. We must acknowledge the same in our very homes.
The Word of God is God's Word—teach it.
All Scripture Is Useful for Rebuking
Second Timothy 4:2 says:
Preach the Word; be prepared in season and out of season; correct, rebuke and encourage—with great patience and careful instruction (NIV).
I can remember seeing my father use God's Word in this way many times. While sometimes he may have come across a little harsh in doing so, he never rebuked others with his own words but always used the words of Scripture. Dad was truly "presuppositional" in his approach to the Bible; he saw the world and the words of man through the eyes of the Word of God. He never tried to fit the ways and ideas of man into the Word of God. Used this way, God's Word is the rebuker, not us. This use of Scripture often makes us enemies with the ways and ideas of the world. That's why Answers in Genesis, for instance, has many enemies. That's to be expected. Others may not like it when they are confronted, but we must always be true to His Word.
The Word of God is God's truth—use it to confront lies.
All Scripture Is Useful for Correcting
Paul tells Timothy that the Word of God is useful for "correcting" (2 Tim. 3:16, NIV). We see a great example of this in Acts chapter 2. When the Holy Spirit came upon the believers on the Day of Pentecost, they began to speak in the languages of many of the foreigners in the crowd (Acts 2:7–8). Some accused them of being drunk, but Peter took a stand and used the Word of God to correct them, quoting from Joel and David. How did the people respond? Acts 2:37 records that "Now when they heard this, they were pierced to the heart, and said to Peter and the rest of the apostles, 'Brethren, what shall we do?' Peter said to them, 'Repent, and each of you be baptized in the name of Jesus Christ.' " Peter used God's Word to correct those who were in error, and many were saved that day. God's Word is truly powerful, and a commitment to teaching it is a tremendous asset to those interested in reaching others for the kingdom of heaven, let alone those who desire to raise godly children.
The Word of God is truth—be corrected by it.
All Scripture Is Useful for Training in Righteousness
Not only does the Word of God bring us to justification in Christ through repentance of sin and faith in Him, but the Word also unleashes the sanctifying power of the Holy Spirit so that we might live in His image. That's why Paul tells Timothy that the Word of God is sufficient for "training in righteousness."
In Philippians 3:7–10, Paul exhorts us to realize that compared to "the surpassing value of knowing Christ," all else in life is but "dung" (KJV). Further in this passage Paul shares his desire to "be found in Him (Christ) not having a righteousness of my own derived from the Law, but that which is through faith in Christ." Paul deeply desired to experience and live in Christ's righteousness, even to the point of sharing in His sufferings—even to the point of death—knowing that as a believer, we will receive resurrection to an eternal heavenly prize. How can we stand to gain such a life on earth apart from our commitment to the Lord and His Word to obtain His glorious eternal favor?
As we learn more about God and more about His Word, and as He opens our understanding, we become more like Him in our character. In Romans 12:2, Paul tells us, "Do not be conformed to this world, but be transformed by the renewing of your mind, so that you may prove what the will of God is, that which is good and acceptable and perfect."
Paul is clearly saying that as we apply God's truth to our minds, we will transform away from the ways of this world, and walk toward the ways of God. This one statement in Romans is really one of the most succinct explanations of sanctification (growing in God's holiness) we will ever come across. To allow more of God's character to permeate and reproduce in our own lives is completely to God's glory.
Sanctification is an understated and underplayed word—not only in the lives of our church members, but also within the environment of the nuclear family. Paul clearly shows us that sanctification happens through the renewal of our minds, and that sanctification is a process in line with God's will. This means it must be a transformation using God's truth, and not our own.
Surely such an important issue should be the desire of every parent. Christian fathers and mothers want to cry out for their whole family to grow in righteousness and intimacy with their maker. If this is our cry, we must acknowledge one very important point: A very key tool God uses in sanctification is the renewal of our minds to God's good and perfect Truth as revealed in His Word.
The Word of God is God's holiness—be transformed into His image by it.
. . . that the man of God might be equipped for every good work
With all of the different programs, books, and seminars that call out for the attention of those who desire to serve God, it is no wonder that Paul concludes this passage with a reminder that the Word of God equips "the man of God for every good work." That's the answer to the question we asked earlier. Is the Word of God alone sufficient? The answer is a resounding "yes!" If we had nothing else in our church but the Word of God, we would still have everything we would need to be effective as His people. If the Bible were the only blueprint we had to help us build a godly legacy, it alone could equip a parent to do this good work.
The Word of God is entirely sufficient—be equipped by it.
Paul and Timothy—Merv and Steve
Although my father was a strict school headmaster and parent, in the latter years of our relationship we were not unlike Timothy and Paul. In the same way Timothy viewed Paul, I viewed my father as my mentor, teacher, and companion in the Word. In so many ways, the words of my father to me held the same messages as Paul's to Timothy in 2 Timothy 3:14–15:
But as for you, continue in what you have learned and have become convinced of, because you know those from whom you learned it, and how from infancy you have known the Holy Scriptures, which are able to make you wise for salvation through faith in Christ Jesus (NIV).
Paul gives Timothy a number of charges in chapter 3, and this one reminds Timothy of his biblical heritage and challenges him to be true to it. It is very easy to read over these verses and simply think nice thoughts about Timothy learning "Bible stories" as a child and that Paul is simply telling him to never forget them. It's deeper than that: Paul is charging Timothy to never live down this biblical heritage he has been so wonderfully blessed with by his Lord God. In fact, this passage is also a deep reminder to parents of the responsibility of training children thoroughly in the Word of God!
Timothy lived in Lystra with his mother Eunice, his grandmother Lois, and his Greek father (Acts 16). His mother and grandmother were among the first Christian converts, and they carefully taught him from the Holy Scriptures (2 Tim. 1:5, 3:15). Timothy's mother was Jewish, and I can clearly imagine she and his grandmother sitting down with him and explaining carefully and thoroughly the Old Testament Scriptures about the history of the world, the Law, the prophets, and the coming of the Messiah, Jesus Christ. Through the care of these two devoted women, Timothy learned the very wonders of God, the devastating plight of man, and the redemption that is obtained only through Jesus. That's the kind of teaching that makes you "wise for salvation through faith in Christ Jesus," and that's the kind of teaching our children need, too.
Unfortunately, today we are so distracted from straight biblical teaching. We have been guided away from simple parent/child discipleship, and we have not created a biblically based environment for sanctification in our households. We have replaced these with a focus on behavior modification that attempts to make our homes an easy place to live. Should a parent be more focused on psychology-based behavior modification or biblically based, parental, pastoral care? The answer is obvious.
One of my favorite authors in the world today is John MacArthur. His material is simple and straightforward, and I love his uncompromising stance on the authority of Scripture. In the book Our Sufficiency in Christ, he writes the following:
"Christian psychology" as the term is used today is an oxymoron. The word "psychology" no longer speaks of studying the soul; instead it describes a diverse menagerie of therapies and theories that are fundamentally humanistic. The presuppositions and most of the doctrine of psychology cannot be successfully integrated with Christian truth. Moreover, the infusion of psychology into the teaching of the church has blurred the line between behavior modification and sanctification. . . . If one is a truly Christian psychologist, he must be doing soul work in the realm of the deep things of the Word and spirit—not fooling around in the shallows of behavior modification. . . . There may be no more serious threat to the life of the church today than the stampede to embrace the doctrines of secular psychology. They are a mass of human ideas that Satan has placed in the church as if they were powerful, life-changing truths from God. Most psychologists epitomize neo-Gnosticism, claiming to have secret knowledge for solving people's real problems. There are even those psychologists who claim to perform a therapeutic technique they call "Christian counseling" but in reality are using secular theory to treat spiritual problems with biblical references tacked on.1
Based on his studies in the Word of God, MacArthur is convinced that we need to deal with the devastation of sin in our lives before God, and not come up with humanistic theories simply to deal with the symptoms of sin. We need to understand that our children are born into the natural influence of sin. Psychological behavior modification brings no relief to this problem in humanity. Our only hope is found in the pure biblical principles related to Christ and the Cross, as revealed in God's Word.
As Christian parents, we can all have confidence that the Bible equips us completely for being mums and dads. The Word definitely gives parents great wisdom for dealing with a child's behavior. When God's Word is our primary resource, our priority becomes deeply focused on sanctification, rather than wading in the shallows of behavior modification.
God's Word needs to be our primary parenting manual . . . and if for some reason we were to find ourselves with no other guide, His Word would again prove itself to be entirely sufficient. You too can rightly adopt my father's simple approach to life and parenting. God's Word is sufficient for all. There is no substitute for its timeless wisdom and authority. If all we had was the Word, that would be enough. In fact, it would be more than enough, and its insight alone would leave us better off as we face the challenge of leaving a godly legacy.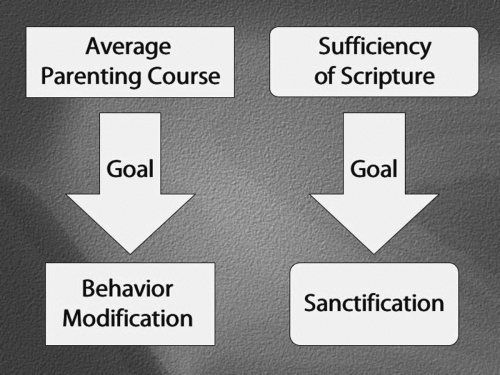 I am holding firm. The biblical heritage given to me from
my father was really a gift from God. A special and
gracious gift from my Father above. I am holding firm.
Key thoughts from this chapter:
God's Word is useful for teaching, rebuking, correction, and training in righteousness because it is of God and from God.
While other resources (such as parenting courses or psychological techniques) can be helpful, they can also be harmful and distract us from the pure Word of God.
God's inspired Scripture is perfect and absolutely sufficient for equipping us to do the work of God . . . particularly the grand task of raising godly kids.
Questions to consider:
Why do you think that people are naturally drawn to worldly philosophies regarding behavior management rather than to the pure instruction of God's Word?
In what ways do you see godly and godless principles for raising children being used in your church and your community?
What specific steps could you take today to begin using the Word as your primary tool and resource for teaching your children?
Resources and tools:
John MacArthur, Our Sufficiency in Christ (Wheaton, IL: Crossway Books, 1998).