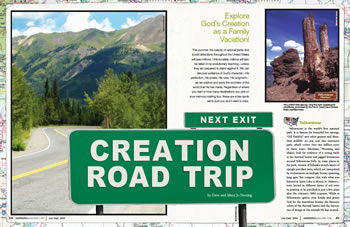 Planning a family vacation this summer that will include visits to well-known natural landmarks? The inaugural issue of Answers magazine contains a colorful and informative article designed for you! In "Creation Road Trip," authors Dave and Mary Jo Nutting explain how to enjoy and explore some of God's most spectacular creations, and striking examples of His global Judgment with the Flood, as part of a family vacation. For instance, you'll learn:
How evidence of a young earth can be found in Yellowstone Falls.
How the Grand Tetons demonstrate the truth of Psalm 104:8.
How the Grand Canyon could have been formed by the catastrophic draining of a massive inland lake at the end of the Flood.
And much more! See the online table of contents.
Plus, you can read about the origins of more geological wonders, including Uluru (Ayers Rock), the White Cliffs of Dover and others, at our AnswersMagazine.com supplemental article Creation Road Trip: More Destinations.
Answers—for kids!
Online interactive feature for kids of all ages!

One of the most exciting features of Answers magazine is KidsAnswers, an eight-page pullout "mini-magazine" just for children. This issue of KidsAnswers highlights fossils and provides a kid-size version of the article "Two Fighting Dinosaurs?" complete with expanded information on how fossils form and are found, and on how to "make" a fossil! In addition, KidsAnswers can be opened into a four-page pullout poster.
Don't miss it!
Families will love the worldview focus of Answers, the beautiful layout and the accurate articles. Look forward to:
"What's Your Worldview?" by Dr. John MacArthur—all about how to "think biblically" and integrate a biblical worldview into your daily life.
"Two Fighting Dinosaurs?"—about the incredible discovery of two fossilized dinosaurs buried in sand that testify to the destruction of the Flood.
"The World: Born in 4004 BC?"—an enlightening article on the depth of Archbishop Ussher's work on dating creation.
"Genesis of a Legacy" — Ken Ham shares how his parents left a godly legacy of faith in the Bible to their children.
"The Fallacies of Radioactive Dating of Rocks: Basalt Lava Flows in Grand Canyon"—scientist Dr. Andrew Snelling shows how true science supports the recent formation of the Grand Canyon in this technical article.
Two "sneak peek" articles, Genesis and Justice and Bird Flu are already online, along with web exclusives, all on our new Answers magazine site!