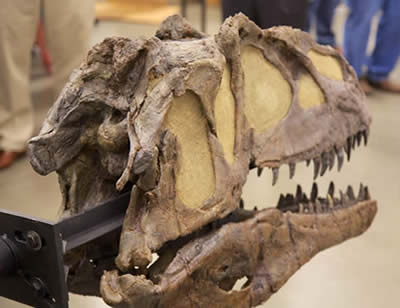 Last week the Creation Museum announced that another exceptional exhibit is being added to the museum. A world-class skeleton of an allosaur, recently donated to the museum, will join the Creation Museum's spectacular array of exhibits on Memorial Day 2014.
But, as with most of the things we do at Answers in Genesis and the Creation Museum—regardless of how well-researched the content is or what qualifications our scientists and researchers have—the secular world fires back with criticisms. In an Associated Press article on our obtaining the allosaur skeleton, Dan Phelps, president of the Kentucky Paleontological Society and a regular critic of the Creation Museum, made some very negative comments about the quality of research performed here:1
"The Creation Museum has asserted the specimen to be evidence of Noah's flood without any actual research," said Dan Phelps, president of the Kentucky Paleontological Society, said [sic] in an email Friday.

"Real vertebrate paleontologists study the surrounding sediments and the geological context of their finds," he added. "Of course since the Creation Museum doesn't do scientific research, all (it) really has done is obtain a nice display trophy."2
These are bold and, quite frankly, absolutely false assertions. Our creation scientists on staff as well as the ones who work with our ministry from time to time are experts in their fields and are accomplished in secular and creation science circles. We think it is important for the world to realize that a belief in evolution or millions of years is not a prerequisite to performing solid scientific research. What follows is a description of creation scientists who are employed full-time at Answers in Genesis and the Creation Museum as well as some who work with our ministry from time to time, including their credentials and achievements in their fields.
Dr. Georgia Purdom
Dr. Georgia Purdom, a speaker and researcher for Answers in Genesis, graduated with a PhD in molecular genetics from Ohio State University in 2000. Her specialty is cellular and molecular biology, and her graduate work focused on genetic regulation of factors important for bone modeling. Dr. Purdom has published papers in the Journal of Neuroscience (under her maiden name Hickman), the Journal of Bone and Mineral Research, and the Journal of Leukocyte Biology. She also holds memberships with secular and biblical creation groups, such as the American Society for Microbiology, Creation Research Society, and Creation Biology Society.
Dr. Purdom's expertise in natural selection was crucial in her design of the Natural Selection Is Not Evolution exhibit at the Creation Museum. She has also published several papers in Answers Research Journal and the Proceedings of the International Conference on Creationism on the genetic mechanisms leading to pathogenicity in microorganisms.
Dr. Andrew Snelling
Dr. Andrew Snelling, a geologist and director of research at Answers in Genesis, completed a Bachelor of Science in applied geology (with first class honors) at the University of New South Wales in Sydney, Australia, and a PhD in geology at the University of Sydney, Australia. He serves as editor-in-chief of the online Answers Research Journal and is also a speaker for layperson and technical audiences.
Dr. Snelling was a joint editor of, and contributor to, both RATE (Radioisotopes and the Age of The Earth) technical volumes, and he authored a two-volume book titled Earth's Catastrophic Past: Creation, Geology and the Flood, a sequel to the Whitcomb and Morris classic The Genesis Flood. Dr. Snelling has had many papers published in a variety of publications, including a number of secular journals such as Journal of Geochemical Exploration, Applied Geochemistry, Mineralium Deposita, Uranium, The Australian Geologist, and Proceedings of the International Uranium Symposium on the Pine Creek Geosyncline (published by the International Atomic Energy Agency), as well as the creationist journals Creation Ex Nihilo Technical Journal (now Journal of Creation), the Answers Research Journal, and the Proceedings of the International Conferences on Creationism (ICC). He has won awards for his ICC papers and was editor for the Sixth ICC Proceedings volume.
Dr. Snelling has made research presentations at the International Uranium Symposium on the Pine Creek Geosyncline, several Symposia on Advances in the Study of the Sydney Basin, an International Conference on Geochemical Exploration, an International Conference on Coal Science, Geological Society of America annual meetings, and fall meetings of the American Geophysical Union. He has contributed to volumes on The Geological Disposal of High Level Radioactive Wastes and Geology of the Mineral Deposits of Australia and Papua New Guinea. He was involved for some years in collaborative research with research scientists at Australia's CSIRO (Commonwealth Scientific and Industrial Research Organization) and for ten years was a consultant and contributor to the Alligator Rivers Analogue Project—an international collaborative research project funded by the U.S. Department of Energy—involving U.S., British, Japanese, Swedish, Korean, and Australian government and university research scientists. It was an Australian project initiated by the Australian Nuclear Science and Technology Association (ANSTO).
For a number of years, Dr. Snelling was also a consultant for an international mining company (Denison), and is a member of the Geological Society of Australia, the Geological Society of America, the Geological Association of Canada, the Mineralogical Society of America, the Society of Economic Geologists, the Society for Geology Applied to Mineral Deposits, the Creation Research Society and the Creation Geology Society. Dr. Snelling is currently involved in active field research, including radioisotope dating of meteorites, radiohalos in granites and metamorphic rocks (such as in the Grand Canyon Yosemite, Australia, England and elsewhere), fossil stromatolites in the fossil record, and a general study of radioisotope dating, including radiocarbon dating. He has also conducted extensive field research at the Grand Canyon, Mount St. Helens, on New Zealand lava flows, on uranium deposits in Australia, on radiocarbon dating, and on the radioisotope dating methods on rocks in the U.S. and Australia.
Dr. David Menton
Dr. David Menton, a speaker for Answers in Genesis and the Creation Museum and a former professor at Washington University School of Medicine in St. Louis, Missouri, earned a PhD in biology from Brown University in Providence, Rhode Island. At Washington University, he did research and taught human gross anatomy and histology. He received awards both for his research and his teaching. He served as the histology consultant for five editions of Stedman's Medical Dictionary and was a guest lecturer at Stanford University Medical School. After retirement, Dr. Menton joined Answers in Genesis, where he works on new exhibits and gives workshops several days a week.
Dr. Danny Faulkner
Dr. Danny Faulkner, an astronomer and speaker at Answers in Genesis, earned a Master of Arts and a PhD in astronomy from Indiana University. Dr. Faulkner was on the faculty of the University of South Carolina Lancaster for more than 25 years. He taught physics and astronomy and chaired its Division of Math, Science, Nursing, and Public Health from 2009–2012. After retirement, he joined Answers in Genesis and the Creation Museum, where he conducts stargazing and sunspot viewing events using the museum's Johnson Observatory. Currently, Dr. Faulkner is working on papers about stellar nucleosynthesis and cosmic microwave background. He also continues his 15-year research collaboration with another astronomer examining eclipsing binary stars.
Other Creation Scientists
These are just some of the creation scientists who are researching, teaching, and writing today.
In addition to full-time creation scientists on staff, Answers in Genesis also works with scientists from outside the ministry in writing high-quality articles and books to better equip the church to answer the skeptical questions of the age.
Dr. Andrew Fabich earned a Bachelor of Science in molecular genetics from the Ohio State University and a PhD in microbiology from the University of Oklahoma. He began his teaching career at Tennessee Temple University and is currently an assistant professor of microbiology at Liberty University in Lynchburg, Virginia. He did his dissertation on understanding how good and bad E. coli colonize the mammalian intestine. He continues working on gastrointestinal research using molecular techniques to study bacteria in animal models. His professional memberships include the American Society of Microbiology, where he has presented his research twice, and the Virginia Academy of Sciences, which he and his students have attended twice. Dr. Fabich has also won grants for his presentations to these organizations. His work has been cited in journals such as Nature, Science Translational Medicine, and the Journal of Evolutionary Biology.
Dr. David DeWitt, serves as professor of biology, chair of the department of biology and chemistry, and director of the Center for Creation Studies at Liberty University. He earned a Bachelor of Science in biochemistry from Michigan State University and a PhD in neuroscience from Case Western Reserve University. He is active in teaching and research, focusing primarily on understanding the mechanisms causing cellular damage in Alzheimer's disease. Dr. DeWitt has received over $180,000 in grant funding for research including a grant from the National Institutes of Health. He has authored and co-authored 16 articles that have appeared in peer-reviewed journals such as Brain Research, Neurotoxicology, Journal of Alzheimer Disease, and Experimental Neurology. He has presented research at both national and international meetings. Dr. DeWitt has given many presentations on creation-evolution issues, and he is a member of the Society for Neuroscience and the Creation Research Society.
Dr. John Whitmore, professor of geology at Cedarville University in Cedarville, Ohio, received a Bachelor of Science in geology from Kent State University, a Master of Science in geology from the Institute for Creation Research, and a PhD in biology (paleontology emphasis) from Loma Linda University. His areas of expertise include fish taphonomy and the Coconino Sandstone of Arizona. Dr. Whitmore is very active in teaching and research, and his publications include Geological Society of America (GSA) abstracts, journal articles, and popular articles for both the creation and secular literature. He has made many presentations at the GSA, leads trips through the Grand Canyon, and speaks internationally on many different geology topics.
These are just some of the creation scientists who are researching, teaching, and writing today. Are our claims backed up by solid research? Absolutely—the dedication of the above scientists, who are also biblical creationists, speaks for itself.
Conclusion
We at Answers in Genesis and the Creation Museum praise God for the opportunity to have such a rare and complete dinosaur skeleton to put on display. Our well-trained and highly qualified scientists on staff will be able to use this allosaur as a tool for teaching guests about the true history of the universe in Genesis—which is confirmed by careful scientific research.
We also note the irony that as Phelps has claimed in a nationally syndicated AP article that AiG does no research, he did not even bother to do his own research about our faculty's research activities. If he had done his homework, Phelps would not have made his very public mistake.