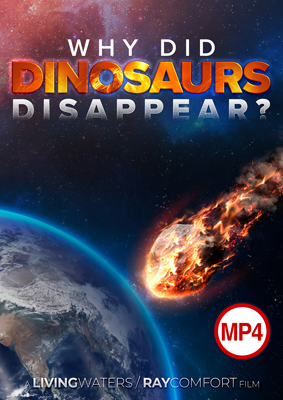 This film starts with my good friend Ray Comfort asking the question, "What happened to the dinosaurs?" and moves from there to a proclamation of the gospel. Ray is incredibly creative when it comes to engaging people in gospel-centered conversations. In my dinosaur presentation for children, I sometimes refer to dinosaurs as "missionary lizards" because you can start with dinosaurs and move into talking about the gospel message. And that's exactly what Ray does. And it's always fascinating and very revealing to hear the responses from the people he interviews.
As I mentioned above, this new film will be available on YouTube starting next month. Putting the videos on YouTube allows believers to share them with unbelievers (they even make invitations to the channel that you can give to others), and unbelievers are challenged with the gospel message. (Their films have been viewed over 15 million times, and their channel has 80 million views!) It's a great way of reaching millions of people with the gospel message! But I encourage you to purchase the download of this new film to support Living Waters and their evangelistic films.
Here's the trailer for Why Did the Dinosaurs Disappear?:
Download the film today to help support their filmmaking at LivingWaters.com or on our webstore.
Thanks for stopping by and thanks for praying,
Ken
This item was written with the assistance of AiG's research team.