Because the human race has been in a spiritual battle for 6,000 years (since Genesis 3), the Bible uses a lot of battle imagery concerning spiritual warfare. For instance, we read this in the book of Ephesians:
Therefore take up the whole armor of God, that you may be able to withstand in the evil day, and having done all, to stand. Stand therefore, having girded your waist with truth, having put on the breastplate of righteousness, and having shod your feet with the preparation of the gospel of peace; above all, taking the shield of faith with which you will be able to quench all the fiery darts of the wicked one. And take the helmet of salvation, and the sword of the Spirit, which is the word of God. (Ephesians 6:13–17)
Now each time we conduct the special school programs as part of an
AiG conference
, we make
resources
(in a way, they are "weapons" for soldiers of the King) available at cost to young people. At the recent AiG conference at Lindsay Lane Baptist Church in Athens, Alabama, hundreds of children and teens took advantage of our "weapon" offer and obtained large numbers of AiG pocket guides and videos. Here is a photo of some of the high schoolers flocking to the special resource table: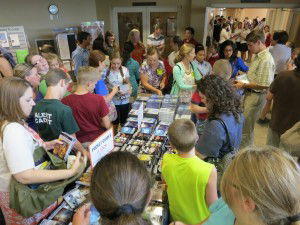 So now hundreds more young people have been equipped with "weapons" to counter the secular "weapons" like the evolutionary public school textbooks. Another battlefront has been equipped and advanced—on to the next one!
After the conference in Alabama, the senior pastor sent this email to us:
What a tremendous AIG Conference we had with Ken Ham and the Answers In Genesis Team! Our people are still buzzing regarding the teaching presentations from Ken Ham and Bodie Hodge! Their knowledge and passion for God's word was very refreshing and God anointed. Even our children and students were overwhelmed with excitement as to the clarity and contents presented in each message. Ken and Bodie both brought the Biblical account of Creation alive! And to help coincide with the presentations, AIG provided an abundance of resource materials to help Christians in their ongoing spiritual growth. The AIG Conference also brought a ton of visitors that seem to come from everywhere! Each session was packed!

What a blessing the AIG Conference was to Lindsay Lane Baptist Church! As Senior Pastor, I would highly recommend the AIG Conference to any church that's seeking to exalt God's Holy Word and teach their people in the true Biblical account of Genesis and Creationism! – Dusty McLemore.
Thanks for stopping by and thanks for
praying
,
Ken