Recently I spoke at Great Hills Baptist Church in Austin, Texas, where I met a remarkable young boy named Reuben. He and his father met me after my talk, and his father proudly showed me his seven-year-old son's notes from the session. They were incredibly detailed!
I thought it would be encouraging to show you Reuben's notes. It's apparent that he was listening carefully to what I had to say—which is evidence that our young people are paying attention to what we teach. It's so important that we teach apologetics and doctrine founded firmly on the Word of God.
Over the years I have had many young children come up to me after I preached in the morning service at their church and tell me they loved the message. It's a reminder that children understand more than what many of us give them credit for. It's also a reminder as to why the very popular Answers Bible Curriculum is getting rave reviews—not just from adults and teens but also from children who tell their teachers they love it because they learn lots of things. We've had Sunday school teachers relate to us that children have told them they don't want to go back to their old Sunday school material since they really didn't learn much from it. (I call many such curricula "fluff and stuff.")
Here is a photo of Reuben with his dad and brother, and also scanned images of his notes. Yes, there are words spelled incorrectly—he's seven after all—but look at what he generally understood from the message: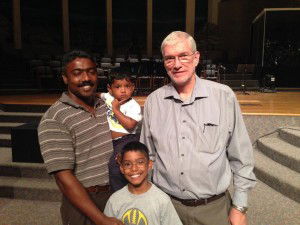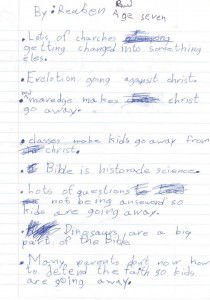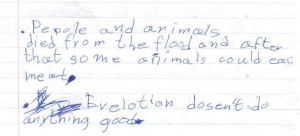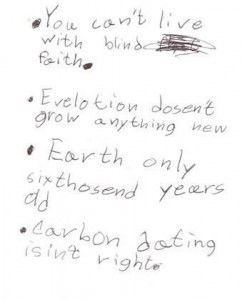 Church, the culture is out to capture the hearts and minds of our youth. But we have to stand our ground and rescue our kids from those who seek to shake their faith. As the Apostle Paul reminds us, Jesus Christ "gave Himself for our sins, that He might deliver us from this present evil age, according to the will of our God and Father" (Galatians 1:4). So let's share the gospel and raise our children to love God's Word.
And here's a suggestion: the next time AiG speakers are in your church, maybe you should keep your young children with you to hear them. They may not understand everything, but they will pick up more than many people think they will.
Ministering In Bolivia
Dr. Terry Mortenson and I, along with AiG's Spanish ministry coordinator Joe Owen, are in Bolivia with our ministry partner
Creous Ramdath
. We will speak at a conference tonight and then Friday and Saturday where thousands of people are expected to attend. Please be in prayer for this time in South America. You can read more about these meetings, including a schedule of the sessions, on
our outreach page
. (Please note that Bolivia is one hour ahead of Eastern Time in the U.S.)
Thanks for stopping by and thanks for praying,
Ken