This year, AiG's popular VBS program Kingdom Chronicles has sold out! Our Vacation Bible School programs have become very popular, and churches are finding that children and even adults are being saved. The uniqueness of what we do with curricula from our creation and gospel ministry is that we teach apologetics, emphasize biblical authority, and present the gospel very clearly. Kids love that our programs have so much "meat" instead of the usual "fluff and stuff" from the many programs that are so shallow and don't teach kids and adults how to answer skeptical questions leveled at them in today's world.
Here is a great testimony from someone involved in an AiG VBS program Down Under. Yes, AiG's VBS program is being used in my homeland. This testimony was written by a parent to the person who ran the VBS in her church:
Although my husband and I have been committed supporters of creation ministries for many years now, I really had no idea about this extraordinary [VBS] program created by Answers in Genesis. Now that I DO know I have not kept, and will not keep, quiet about it!

Experiencing those five days with my wonderful group of children and two special helpers . . . has again deeply convicted and reinforced to me the absolute urgency and necessity of teaching children from the youngest age the solid and unshakable Foundation of our faith—Jesus Christ our Rock—and the authority and inerrancy of the Word, from Genesis to Revelation.

This was certainly accomplished at the VBS, and the tragic reality for me is that the children (and all of us) learnt more truth in those five days than many adults who have sat in their church for thirty years. (An increasingly disturbing sign of these last days) . . .

You did not exaggerate when you described how professional and organized the entire program is—and of course all the creative expertise involved, especially in the fantastic songs written and performed, the drama presentation and the themed crafts. Even the morning teas [snack times] were tirelessly brought out in eye-catching colours and arrangements, with a relevant Bible reading! No participant was in danger of going home without a thorough grasp of foundational truths which every believer should be armed with, but tragically today isn't.

In the five-day program Jesus Christ was honoured, confessed, and proclaimed without compromise. The written Word of God was upheld and revered—without compromise and excuse.

For me this is hugely encouraging to my own faith and walk. I would go so far as to say that many adult Christians I know would benefit immensely from participating in Answers in Genesis' VBS.

I would also like to add that it was a joy, and incredibly satisfying for me, to work with [and] . . . to witness leadership ability and initiative, to see them encouraging and helping the children in our group, and to watch them enjoying and responding to all that was being taught. . . .

So . . . to sum up this rather lengthy letter, I am hooked!!! And I will be spreading the word far and wide amongst the churches for next year. . . . Anticipating greatly the coming months preparing for next year.
The
Kingdom Chronicles
VBS program was even used last week at our Answers Mega Conference in Tennessee. See the following photos: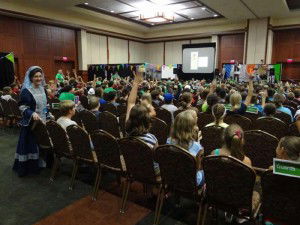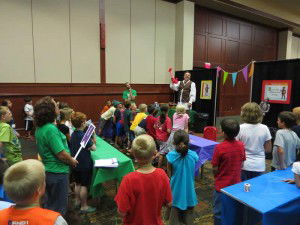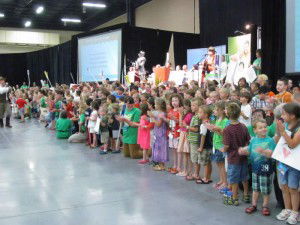 We are also receiving such tremendous feedback from churches across the USA—including the fact that many parents themselves are saying they learn a lot from the AiG VBS programs!
I urge you to get your church to look at our VBS program for 2014 called International Spy Academy. It is gospel centered as usual. Children will compare Jesus Christ to other religions and search out the one true God! They will learn there is only one way to Heaven—the Lord Jesus Christ!
Thanks for stopping by and thanks for praying,
Ken