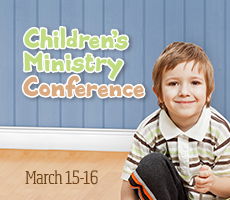 This is the last opportunity to receive a discount to attend our practical
Children's Ministry Conference,  March 15–16 (Friday–Saturday), here at the Creation Museum. This is a must conference for all children's ministry leaders and workers. I call it "hands-on, biblical apologetics" for the next generation.
To receive the early bird special rate, register by Thursday, January 31, and save 20%.
I'll be speaking during the Friday session. For the conference schedule and to register by Thursday, visit www.AnswersinGenesis.org/go/childrens.
I would appreciate it if you would please forward this blog item to children's workers in your church.
Swedish Media Here
Interest in the
Creation Museum
continues outside the United States. Recently, a crew of four from Channel 6 in Sweden (based in Stockholm) were here to do a segment on our museum, and they interviewed Dr. Terry Mortenson of our staff. We don't know what ideas the Swedish team had about the nature of the museum before they arrived, but they were very impressed with the quality of the museum—and also with our staff (especially those holding doctorate degrees).
If the segment ever appears on Swedish TV and is posted to the station's website, we'll let you know. Of course the segments featuring Dr. Mortenson will be in English.
We praise God for the many opportunities that the Creation Museum is having, not only in reaching out to so many Americans with the truth of God's Word and its gospel message, but also for the opportunity to impact the many international visitors who continue to come here.
Thanks for stopping by and thanks for praying,
Ken