This could be your next great family vacation, but act now—a registration discount ends soon!
Many AiG supporters have already blocked off the dates of July 16–20, 2012, to join AiG in Branson, Missouri, for our next national family conference. While many families can often spend several hours choosing a vacation destination and making their plans, we would like to make the planning easy for you in 2012.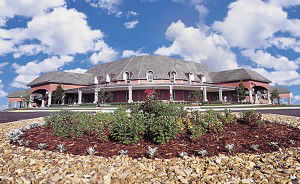 Family-friendly Branson—located in the middle of the country—will once again play host to an AiG family conference, this year with the theme "Proclaiming the Faith." We've made sure that in addition to some great Bible teaching to be offered at the excellent Tri-Lakes facility, we will set aside time for you to enjoy some of the activities in the area, such as special discounts at Sight & Sound theater and Mystic Caverns,  plus outdoor activities, and an excellent amusement park (Silver Dollar City).
I will be speaking at the conference, but we'll also feature superb AiG speakers like Dr. Andrew Snelling, Dr. Tommy Mitchell, and Dr. Jason Lisle—and both Todd Friel (from the "Wretched" radio and speaking ministry) and Mark Spence (from Living Waters Ministry—led by Ray Comfort). Mark is the dean of Kirk Cameron and Ray Comfort's School of Biblical Evangelism where he currently administers more than 14,000 students.
AiG will also make sure there are plenty of things for children to do at the conference. For example, Buddy Davis will bring his toe-tapping music and give presentations at interactive children's workshops. In addition, gospel illusionist John Swomley and Dr. David Menton will also be doing special workshops for the kids.
For the teens, Mike Riddle—who holds the interest of everyone (well, let's say ages 12 and up)—will give some wonderful presentations that proclaim biblical truths. In addition, Dr. Georgia Purdom will lead some of the "women's track" events to encourage and equip wives, mothers, and all ladies.
As an added bonus, one of Ken Ham's favorite musicians, the pianist and singer, John Elliot will once again appear at an AiG national conference.
And don't forget, Branson is one of the best locations in America for a family vacation.
To help you in your vacation planning, our special conference website can offer a number of suggestions on where to stay while in Branson.
Super Early Bird rate ends very soon—November 30. Talk to your family today.
If you sign up right now, the registration cost is $215 for this 4 ½ day conference, which is for everyone in your immediate family.
Now that we've virtually planned your summer vacation for you, you need to go to our mini-site for "Proclaiming the Faith" and register and also find a hotel.
We look forward to having a great time with you.
Thanks for stopping by and thanks for praying,
Ken