Ron Dudek makes a few trips from Michigan throughout the year to give special workshops for our Creation Museum guests. His specialty is "carnivorous plants." In his workshop (co-hosted by Cedarville University) entitled "Cursed Plants," Ron answers the intriguing question: Did God create carnivorous plants (i.e., plants that eat creatures) on Day Three of creation or did they appear later?
On Monday, some members of the Creation Club at Lake Michigan College (Benton Harbor, Michigan) took in one of Ron's museum presentations, along with other guests here on that day.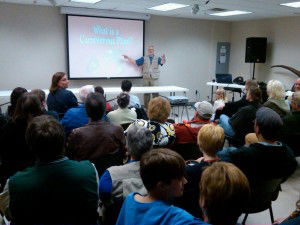 Find out more about these occasional "Cursed Plants" workshops (tickets can be purchased at the door when museum tickets are bought).
Another "Cursed Plants" workshop will be held at the museum sometime in the summer—the date is yet to be scheduled. Check out our museum's events calendar.
Here is a photo of Ron with the college group, taken at our museum's Foto FX booth.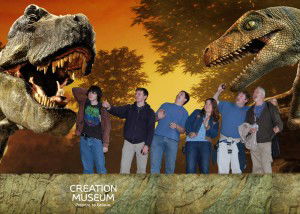 Tucson, Arizona
Tonight and Sunday morning and evening, I will be speaking at Calvary Chapel in Tucson, Arizona.  Find out details on
the event page
.
Thanks for stopping by and thanks for praying,
Ken