The Caleb described in the Bible (in the books of Joshua and Deuteronomy) was one of the great warriors of the faith who "wholly followed the Lord God."  Oh that there would be more Calebs in the world today!
I did meet another Caleb recently: a young Caleb who is zealous for following the Lord.
Caleb Elliott is a remarkable young man. Only at 13 years of age, he spent 2–3 years mowing lawns, pulling weeds, mulching, etc. to earn enough money ($1,000) to get a lifetime pass to our Creation Museum. Now, Caleb could have used a guest museum pass that belongs to his parents (they are museum charter members and thus have a lifetime pass with guest passes) to visit the museum as many times as he wanted, but he wanted to have his own lifetime pass (and its associated guest passes, for his friends to use).
In the first photo, you see Caleb with me in my office: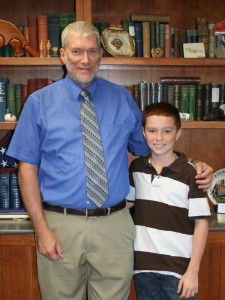 In the second, we are joined by Caleb's father (Brian), mother (Gretchen), and baby brother (Drew):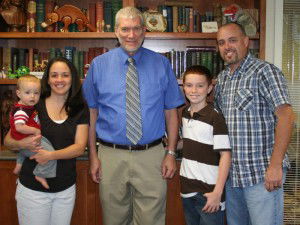 Brian is the pastor of the Legacy Church in Springfield, Ohio.
Caleb's uncle John is a good friend of mine: musician John Elliott—who has provided the special worship music at two of our national conferences (see his website).
While the Elliotts were here, they checked out the new children's exhibits inside the museum (known collectively as the "Knee-high Museum"). Then the next day, Brian attended our "Answers for Pastors" conference here in northern Kentucky.
We praise the Lord for young men like Caleb who are so committed to the Lord.
except Caleb the son of Jephunneh, the Kenizzite, and Joshua the son of Nun, for they have wholly followed the LORD. (Numbers 32:12)

except Caleb the son of Jephunneh; he shall see it, and to him and his children I am giving the land on which he walked, because he wholly followed the LORD. (Deuteronomy 1:36)

Hebron therefore became the inheritance of Caleb the son of Jephunneh the Kenizzite to this day, because he wholly followed the LORD God of Israel. (Joshua 14:14)
Thanks for stopping by and thanks for
praying
—and pray for the Lord to raise up more Calebs in this world.
Ken