From time to time I like to post Creation Museum photos taken by our talented staff photographers Deb and Marty Minnard. This couple is on the front lines of the museum ministry—they are often the first people that museum guests meet after getting their tickets and heading towards the museum entrance. The Minnards stand ready to take photos of our visitors at our special FX Foto display.
For the past three years, Marty and Deb have also been taking photos of the museum exhibits—especially the beautiful grounds. Some of the best photos of the grounds have been posted to a special creationist website, CreationConversations.org, and can be seen here (make sure you don't miss the photos on page two).
Can You Guess What This Photo Is About?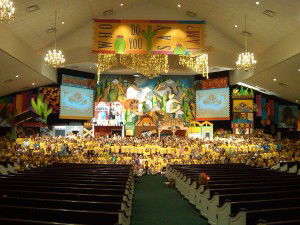 This is the group that tested the AiG 2011 VBS program entitled "Gold Rush." I will tell you more about this in future blogs—but this VBS program will be another best-seller, I'm sure!
Thanks for stopping by and thanks for praying,
Ken