Mr. Joe Brown had never visited the Creation Museum (although his wife Malinda and son Joey had), so he didn't know what to expect when he walked through the museum doors yesterday—especially when I went up to greet him and his family.
I indicated that he was our one-millionth visitor to the museum (in less than 3 years). As I welcomed Mr. Brown, I gave him a basket of gifts that had been donated by various hotels and attractions in the area (coordinated through Cincinnati USA.com—for which we thank them). And our bookstore donated several DVDs and books to the gift basket; plus, we gave him a lifetime museum membership (with four guest passes that he could use for friends over the years).
The Brown family lives in Dayton, Ohio, and even though this was Joe's first time to the museum, he had been aware of our apologetics ministry through our Answers radio program that is aired in the Dayton area.
Here's a series of photos:
Right now, it appears that as we are now within a few weeks of the close of our third year of museum operation, we will even exceed the attendance for year two—for which we praise the Lord given the tough economic times in the USA.
Also, see yesterday's main web article about our special visitors who were here yesterday.
The Associated Press called yesterday, and so a syndicated article about our one-millionth visitor may appear in papers across America  (see the AP article).
Here is the photograph that was sent out to news outlets with our press release about this milestone event: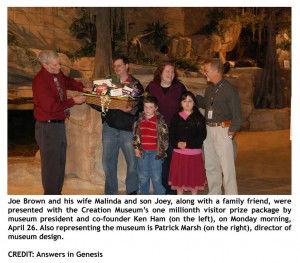 Sadness and Celebration at the Same time
While we were celebrating the arrival of the Browns, we had received word that morning that Mr. Israel Martin (age 106) had passed away after suffering a heart attack. He had visited the museum at least twice since we opened and always seemed to enjoy his time here. He was very spry! Although we are so saddened at the death of a loved one, yet, knowing this one was a
Christian
is also a time of celebration, as he is now in eternity with his Lord and Savior.
A friend at his church in northern Cincinnati shared this with me:
Ken,

In Loving Memory of Israel B. Martin, 106, with the Lord on Friday ... He was loved by his church family at Northern Hills Bible Chapel ...Israel had a heart attack recently and went HOME this past Friday.  What a blessing Israel was ... we have lost a member of our Chapel family -- but we sorrow not as others who have NO HOPE ... Israel is with the Lord. Israel always talked to me about the Creation Museum ... he loved it there. Praise the Lord ...

Love, Lois (family friend and church member)
Pray for the Martin family and his many friends who will miss him greatly. Funeral services will be Wednesday morning.  I wrote
a blog item
about Mr. Martin in 2007.
Devotion
David …the bright star

(Revelation 22:16)  I Jesus have sent my angel to testify unto you these things in the churches. I am the root and the offspring of David, and the bright and morning star.

The Lord Jesus Christ is the true Star of David.
Thanks for stopping by and thanks for
praying
,
Ken