Right before the final keynote address I was to give at the Home Educators Conference in Alberta, Canada, this past Saturday, the young people who had been involved in the children's program came into the auditorium to sing to their parents and other families attending the conference.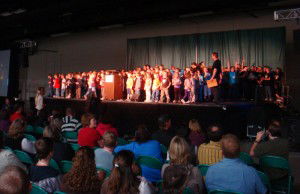 As I listened to their songs (which they sang with great enthusiasm), I immediately recognized that a number of them were Buddy Davis songs! AiG's Buddy Davis is a songwriter, singer, and dinosaur sculptor. Buddy has produced numerous CDs of his songs for adults and children. I have heard children all over the world singing his songs—they just love them—and his songs teach biblical authority and truths about the creation/evolution issue. In fact, if children learn many of Buddy's songs, they will actually get to learn answers to skeptical questions about creation and Genesis, and learn how to defend the Christian faith and stand against evolution.
Buddy was definitely a "star" in Canada! Many young children told me they just love Buddy's songs!
You can obtain Buddy's CDs from AiG's online bookstore. Buddy is also featured in the mini-children's magazine in the center of our Answers magazine. It was thrilling to see so many people who had subscribed to Answers magazine at the Alberta conference—an outstanding response. So, hundreds more children as well as adults will now be equipped to defend their faith. What a blessing we praise the Lord for.
Frequent Visitors to the Creation Museum
From time to time, I hear of supporters in our local community who have visited our Creation Museum dozens of times. Some of them have museum memberships, so it's not surprising that they come on by whenever there's a new lecture, new exhibit, etc. here at the museum.
For example, the DeWalds live a few miles from the museum, and they have been here an amazing 75-plus times! They have called their museum membership an "irreplaceable" part of their homeschool curriculum for their daughters. As a part of their science courses, they have enjoyed the special lectures we often have at the museum (and their daughters enjoy meeting with our PhD science staff after the lectures), often eaten lunch at the café, and have also used the museum gardens as a "prayer retreat." The DeWalds have also been blessed to use their guest passes to loan to their friends so that they can tour the museum and be exposed to the gospel message.
What is even more surprising, though, is that there are a few families in Indiana who have been here more than 30 times! I think of my long-time friends Lamar and Sandy Brenneman, who live north of Indianapolis. They told us recently that they have been here on 32 occasions, making a four-hour round-trip drive almost every month since we've been open! (We affectionately call them museum "groupies"!) Just as impressive, I think, is that they have brought 161 guests with them in three years!
Another ministry friend in Indiana, Tony Hillen, has been on site more than 50 times since groundbreaking! His colleague Mark has been here 37 times, and between the two of them (and some of their other colleagues in ministry), they have brought 1,200 people to the museum! Tony and Mark live over an hour and a half away, yet they make sure to get value from their museum passes (and the guest passes that come with them)!
If you've been to the museum, I strongly urge you to think about returning right about now. As I wrote yesterday, the gardens are in bloom and look great. Also, go to our Creation Museum website and see what exhibits have opened since you were here last, and check out our speakers' calendar for special lectures inside our theater. Another reason to show up soon? We are expecting our one-millionth visitor this coming Monday!!
We constantly hear from people who are grateful that the museum has not remained a "static" place—many new things are being added, even in recent weeks (including our remarkable animatronic Noah in the "Voyage Room;" children just love asking Noah questions and hearing his answers).
For info on museum memberships and benefits, see http://creationmuseum.org/tickets/membership/
The next time you return to the Creation Museum, why not bring some guests—as the Brennemans and Tony Hillen have been doing for a few years now.
Ugandan Pastor
Yesterday we mentioned that a Christian leader from Romania had toured our Creation Museum. Yesterday, Pastor Alfred Adundo of Uganda—pastor of Nile Baptist Church in Jinja—visited the museum with AiG supporters Dr. Eric and Mrs. Norman. (Dr. Norman is a PhD biochemist who lives in our Cincinnati area and is a big booster.)
Pastor Adundo called the Creation Museum the "best" he has ever visited.
We donated many resources to his church and an associated ministry (called the Macedonian Child Outreach Project).
Here are the Normans with the pastor in the main hall of the museum.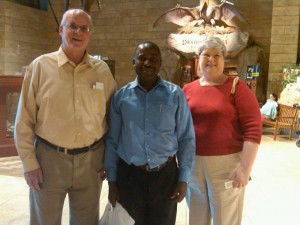 Devotion
Believe His prophets

(2 Chronicles 20:20) Hear me, O Judah, and you inhabitants of Jerusalem; Believe in the LORD your God, so shall you be established; believe his prophets, so shall you prosper.

There is only one way for the lost to get to Heaven: to believe the Bible including the prophets—especially Isaiah chapter 53—and that way is through the redeemer, Jesus Christ, the Messiah.
Thanks for stopping by and thanks for
praying
,
Ken