Master Books is the main publisher of creation/apologetics resources in the world—and as a publisher, they take an uncompromising stand on the authority of God's Word beginning in Genesis.  We praise the Lord for raising up such a professional publisher, that takes the same stand as Answers in Genesis, to make so many creation/apologetics resources so readily available.
Master Books has commenced an exciting venture to help creation ministry worldwide.  They sent me and others this report about this new outreach:
For over fourteen years, our team has researched, written, and presented the historical accuracy of the biblical account of creation.  We've invested considerable resources to connect people with the truth—the Creation Museum, blogs, Facebook, and campaigns like www.IAmNotAshamed.org, just to name a few. We also highlight resources and people that share similar values and vision to bring the truth of biblical creation to a lost and fallen world.

With that in mind we want to bring a new website to your attention.  This site—created by the world's largest creation apologetics publisher, Master Books—is to be found at www.CreationConversations.com.  It is designed to connect those who believe in biblical creation with others who share a similar worldview.  It is a relatively new interactive site complete with groups, discussion forums, the latest creation apologetics news, and a calendar of creation ministry-related events. Similar to Facebook, this online community accomplishes one specific purpose—Conversations about Creation.

So we would like to invite you to join www.CreationConversations.com. Let experts answer your questions. For example, Jason Lisle of AiG is the featured expert this month. Download Ken Ham's book, The Lie: Evolution, FOR FREE on the Resource Page. Engage with believers from all over the world who share your passion for biblical authority. Discover books, blogs, and websites that will further the kingdom of God, our Creator.  I am sure you will enjoy this site and tell a friend.
I am thrilled to be able to recommend 
www.CreationConversations.com
to you.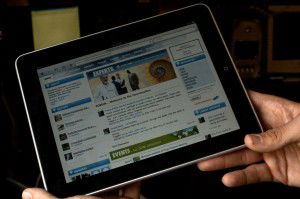 Another Overflow Crowd in Canada
Yesterday, I completed my speaking tour of Canada by speaking four times in Meadowlands Baptist Church in the Edmonton (Alberta) area.  Last evening, an overflow crowd (including many visitors) crammed into the church.  People are so hungry for the messages—there is such need in Canada to spread the messages we present across the nation.  I pray the Lord will continue to open doors as we have seen.  The resources we provide are so needed and people (as they did at last weekend's homeschool conference there in Alberta—see previous blog) obtained so many that we had to take back orders and will have to ship the resources to them.  Many people also told me they intend on coming to the Creation Museum (about 1,500-2,000 miles away for most of them). Answers in Genesis is certainly making a phenomenal impact in Canada as God has blessed.
Yesterday afternoon, I was also interviewed for Christian television programming in Canada.  I was asked a whole range of questions for segments that will be shown, and we trust will have a great impact on people's lives.
Here are some photographs taken yesterday in Canada:
1.  Pastor Kevin Williams (from Meadowlands Baptist Church) and  I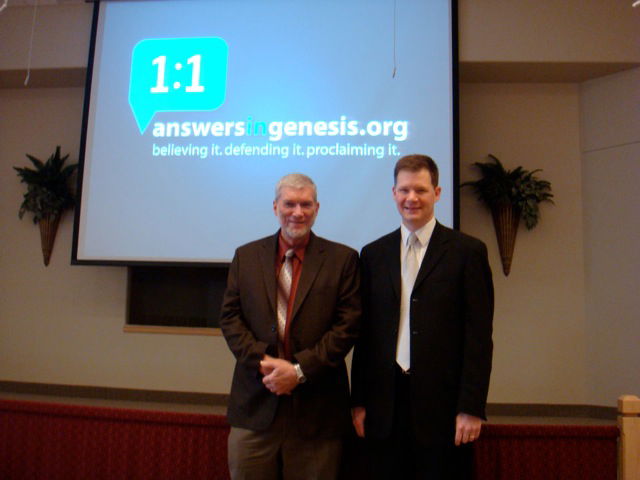 2.  People crowding the resources tables
3.  Peter Petrushko (father of AiG staff member Perry Petrushko) who came to the Sunday meeting
4.  Crossroads TV came to interview me
5.  Pastor Kevin, Youth Pastor Aron, a church deacon and I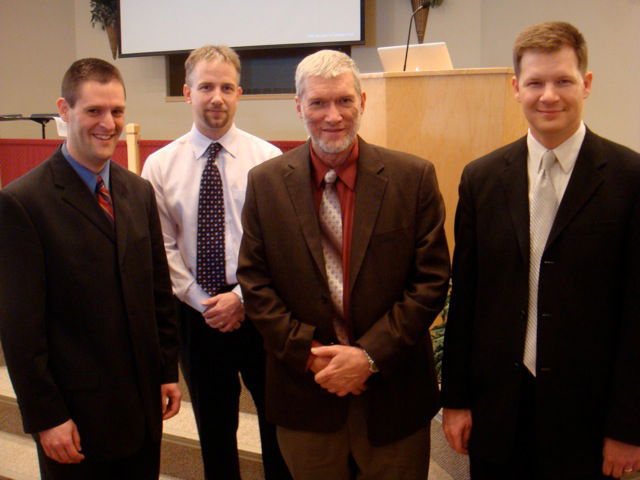 6.  Auditorium Sunday evening
Devotion
(John 4:42)  And said unto the woman, Now we believe, not because of your saying: for we have heard him ourselves, and know that this is indeed the Christ, the Savior of the world.

People come to the Lord Jesus Christ because they have heard Him themselves; our job is to speak & teach the Word of God thru which they can hear Him.
Thanks for stopping by and thanks for
praying
,
Ken