The new spectacular-looking Dinosaurs For Kids book is getting many rave reviews.
Here is one from a home school resources center: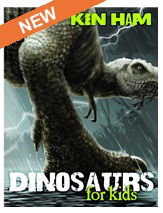 The illustrations in the book are very eye-catching and they alone will hold your child's attention. Dinosaurs for Kids can be used as a read aloud for one or more children or read independently by upper elementary age and beyond. The information in this book is based on what the Bible says and has many scripture references throughout to back it up and prove that it is factual.

The book is broken down into seven different ages of the dinosaurs that explains where they came from, when they lived, what happened to them, and how they are recreated by scientists. It also explains the different groups they can be categorized in. Descriptions, sizes, and habits of these animals are explained which include detailed pictures . . . Many of the pages contain fast facts about each of the dinosaurs which were very interesting and a great way to quickly learn some new information.  There is also a pronunciation key included, which is very helpful with many of the names.

If you are looking for a Biblical perspective on dinosaurs, this is a great resource! It is well laid out and explained in as simple terms as possible. This will be a keeper in our home for many years.
You can read the entire review at:  
http://eho.org/reviews/individual_review2.asp?revid=3186
You can obtain Dinosaurs For Kids from the AiG online bookstore.
Active in Creation Evangelism
Here is a nice email from Tony Breeden, a creation speaker in West Virginia, who visits the Creation Museum on occasion (about a 3–4 hour drive away). He has become very active in "creation evangelism" ministry in his state—and beyond. On my blog a few days ago we mentioned his website, and he wrote Mark Looy, our CCO, to thank him for that web posting:
http://blogs.answersingenesis.org/blogs/ken-ham/2010/01/27/creation-sunday-february-14/
Mark,

I wanted to take a brief moment to let you know how much I apppreciated the way you promoted Creation Sunday 2010 on Ken Ham's blog last week. … CreationLetter.com experienced a 350% traffic increase whenKen Ham's blog on Creation Sunday was posted, and we've nearly doubled the number of signatures, notably clergy and pastor signatures.

I was able to thank Mr. Ham personally at Appalachian Bible College and I found him very gracious. His presentation was very thought-provoking, both to those who've never heard creationist material and those of us who are more familiar with these arguments and evidences. Thanks for keeping it fresh!

I just finished an interview with WGRC's 'The Matter at Hand' with Larry Weidman. Tonight, I'll be doing a creation presentation for a local creation group, and will then be on KFAX's LIFE!LINE with Craig Roberts [9pm EST/6pm PST]. If the only thing I have to complain about is how busy I am and how many opportunities I'm encountering, I am truly blessed.

Thank you again for your support, encouragement, and friendship, Mark.

Tony Breeden

DefendingGenesis.org & CreationLetter.com
Well, let's try to increase his web traffic even more! Go to 
www.creationletter.com
.
Thanks for stopping by and thanks for praying
Ken