Answers in Genesis is now making Answers magazine available in a digital version! It is phenomenal—looks just like a magazine. You can turn the pages like a magazine—but it is digital and right on your computer screen.
We expect many people will subscribe to both the digital and print edition, but we also believe the digital edition will be excellent for overseas subscribers. For those in other countries, postage costs and mail delivery reliability are two major factors that cause problems. Now, with the digital edition, people from any country can subscribe and receive their Answers magazine as soon as it is available.
For the first issue of the digital version, we are giving anyone who wants it a free copy—and we also urge you to email the digital version to your friends.
Late yesterday afternoon we sent a very special email to everyone on the AiG email list to give them the opportunity to share a free digital copy of Answers magazine with anyone, anywhere in the world, family and friends, missionaries, and anyone else—anywhere. Our prayer is that hundreds of thousands more people will know about Answers magazine within just a few weeks.
As I've shared here before on this blog, Answers magazine is exceptional, and it's not just me saying that. In fact, it has won numerous awards in the last couple of years and keeps getting better and better. Every issue has a number of excellent creation articles, plus current events, science & culture news, a biblical authority Bible study, special columns for teens, and even a great eight-page Kids Answers mini-magazine.
There's nothing else like it—nothing else that even comes close to it—and it's all written by today's best and most articulate creation scientists and Christian leaders.
I've been told by literally hundreds of people just how much they love Answers magazine, and when you've got something that honors Jesus and glorifies the Creator the way this magazine does, you want others to share in it. So, we sent a very special email to tens of thousands of AiG supporters, and we hope to see many people around the world click into the free "digital edition" that we have put up on the web.
Even if you did not receive the special email, you can read it now, and then click the "Forward to a friend" button to make sure that everyone you know has a chance to read this full, 96-page magazine. It's the "Creation Vacations" edition that was mentioned in the Washington Post recently and many other newspapers across America.
Funny Bone to Be Tickled Tonight
Last night we had a great time with a well-known Christian comedian who goes by the name "Nazareth." He entertained a group of us and shared something of his background, including his fascinating Middle-Eastern heritage and the time he heard me speak in Southern California over 15 years ago.
He will be bringing one of his comedic routines to the Creation Museum later today (Friday). There may be some last-minute openings; tickets are only $5 in addition to museum admission)–watch a video clip of Nazareth here.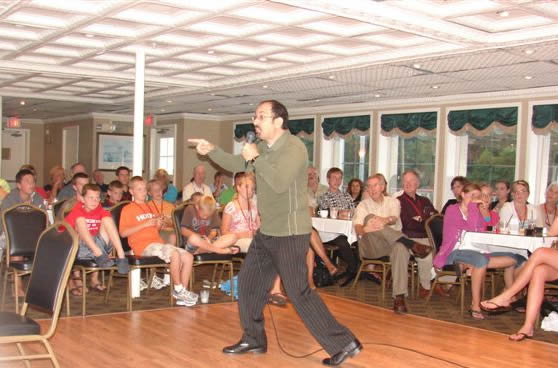 Find out more about this very funny man and his unusual background (including how he got his name) at NazarethUSA.com.
Devotion
Heart burn within us while He talked
(Luke 24:26–27, 32) Ought not Christ to have suffered these things, and to enter into his glory? And beginning at Moses and all the prophets, he expounded unto them in all the scriptures the things concerning himself. . . . And they said one to another, Did not our heart burn within us, while he talked with us by the way, and while he opened to us the scriptures?
Our hearts burn within us when the Lord Jesus Christ speaks to us and shows us that all the Scriptures have one central theme of Himself, His Cross & His Glory.
Thanks for stopping by and thanks for praying,
Ken