It begins this week! Don't miss out! One of the best live nativity exhibits—and the spectacular "Road to Bethlehem" (actors in costume, props made by the Creation Museum designers, and much more)—you will ever experience begins this Friday and Saturday evening 6:00 p.m.–8:00 p.m. And these outdoor events are free! See the Creation Museum Christmas page for other dates and times through January 3.
As part of the overall experience, the Photo FX booth at the Creation Museum has designed a special nativity background for your special photo. Mally and I had our photos taken this weekend so I could show you an example: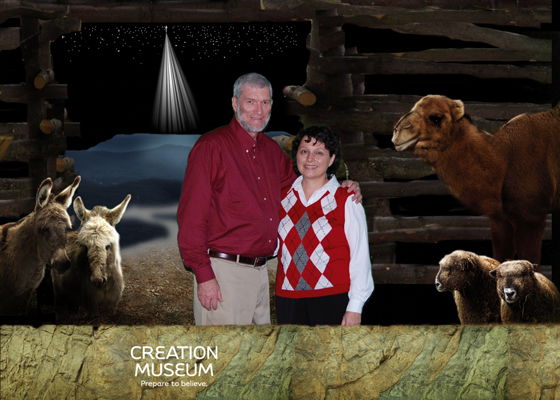 You can also have your photograph taken in front of some of the other spectacular backgrounds at Photo FX, such as this one that has our second eldest son Jeremy (who works in the IT Department at AiG) and some of the museum dinosaurs: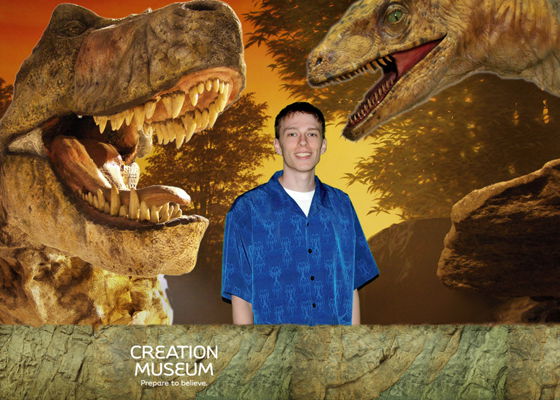 Our daughter Danielle was with us when we had our Photo FX photograph taken, so we talked her into one also. She had just finished running a piano recital for her piano students (Danielle is a piano teacher). She said I could only use her photograph on my blog if I also included the website address for her piano studio; so, here it is:
http://www.danispianostudio.com/
Dani has just written an article for her website on the importance of music. You might like to read it at http://www.danispianostudio.com/?q=node/5. I include this because as parents we are thrilled to see how Danielle's Christian/creationist/biblical-authority upbringing plays out in her life.
Here is Danielle's Photo FX photograph with the Garden of Eden background.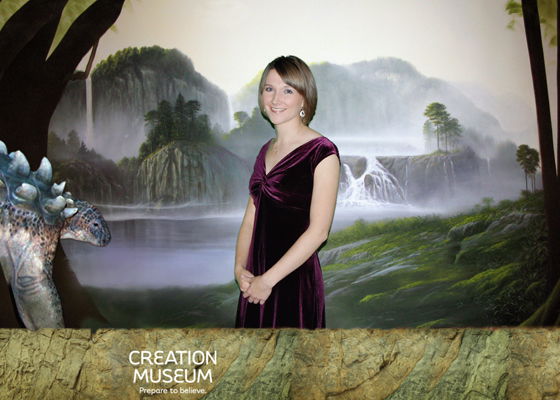 By the way, certain museum memberships receive special deals for their Photo FX photographs. So, when you visit the Creation Museum, make sure you also visit the Photo FX booth for a lasting memory!
Winter Wonderland
A cold front hit the Cincinnati area on Saturday, and we had our first real snow—even though winter has not officially started yet. The museum grounds looked like a winter wonderland. Photo FX photographers Marty and Debbie Minnard took these three photographs:
"From Creation to Bethlehem" for Each Person
When people come to the live nativity and "Road to Bethlehem" programs over the next few weeks, they will be given a free booklet entitled "From Creation to Bethlehem." This is a booklet that clearly explains the gospel message, beginning in Genesis (Genesis 3). After all, the reason AiG/Creation Museum exists is to unashamedly present the
gospel of Jesus Christ
.
Thanks for stopping by and thanks for praying,
Ken