On the very popular website www.BeliefNet.com beginning today, I will be having an online debate with Dr. Karl Giberson, the evangelical author (and professor at Eastern Nazarene College and director of the Forum on Faith and Science at Gordon College) of Saving Darwin: How to be a Christian and Believe in Evolution. This author will submit the first posting—then I will respond—and then two more responses from each of us.
Once the debate gets underway I will be able to tell you more about it. The first posting should occur this morning on Beliefnet—then within 24 hours (probably late this afternoon, actually), I have to post my first response.
Karl Giberson states concerning his book:
I wrote Saving Darwin to build a bit of a bridge between two cultures at odds with each other: the scientific community and American evangelicalism. I have lived in both cultures and am dismayed at how far apart they are. In this climate of misunderstanding the 'naturalism' of science looks anti-religious and the anti-evolutionism of evangelicalism looks uninformed. I hope to illuminate the tension that divide these two communities and to contribute to improved communications.
Fireproof Movie Star at Conference
I was privileged to speak at the Deeper conference in Atlanta this past Saturday put on by The Way of the Master ministry. This evangelical ministry is headed up by Ray Comfort and Kirk Cameron. Ray and Kirk are good friends of AiG, and I praise the Lord for the opportunity to speak with them to over 2000 excited people!
Wikipedia states this about Kirk Cameron:
Kirk Thomas Cameron (born October 12, 1970) is an American actor best-known for his role as Mike Seaver on the television situation comedy Growing Pains. He is also a film director and a Christian evangelist. Cameron is currently a partner in the evangelical Christian ministry The Way of the Master.
Many of you will recognize Kirk Cameron's name from the new movie
Fireproof
that is currently showing in theaters across the nation. It was thrilling to note that
Fireproof
attracted audiences MANY TIMES greater than the small numbers that went to see the vulgar and blasphemous Bill Maher mockumentary called
Religulous
—
see my previous blog
on this disgusting movie.
Kirk actually wrote a Truth4Teens article in our Answers magazine in the recent July–September (3.3) issue. I thought you also might like to know  that Harris Malcom, the man who played Kirk's father in the Fireproof movie, has written an article for the "Father's Corner" in the upcoming Darwin issue of Answers magazine, coming out around Christmas (don't miss out on this spectacular issue—subscribe now). If you haven't already seen the movie, it is excellent! It continues to be one of the top ten movies on the charts.
At a time when this nation is seeing dark times economically, and we see Christianity waning and under great attack—it was so encouraging to see how excited and motivated the more than 2000 people were at this conference where I had the privilege of giving one of the keynote sessions and a workshop.
I have included some photographs:
1. Kirk Cameron, Ray Comfort, and me at the end of the conference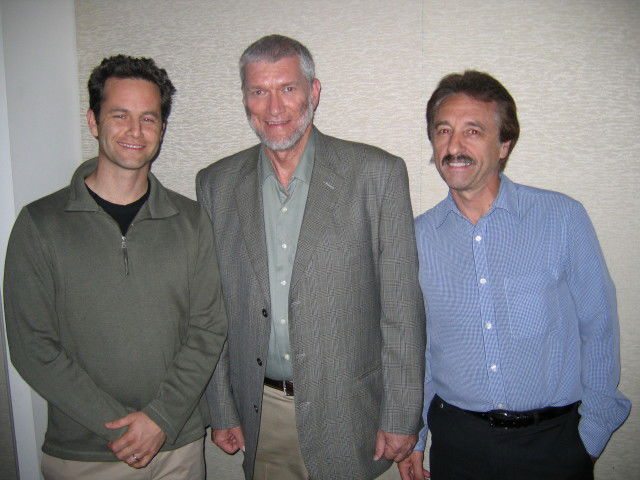 2. The church of the well-known Southern Baptist preacher Johnny Hunt in Woodstock Georgia where the conference was held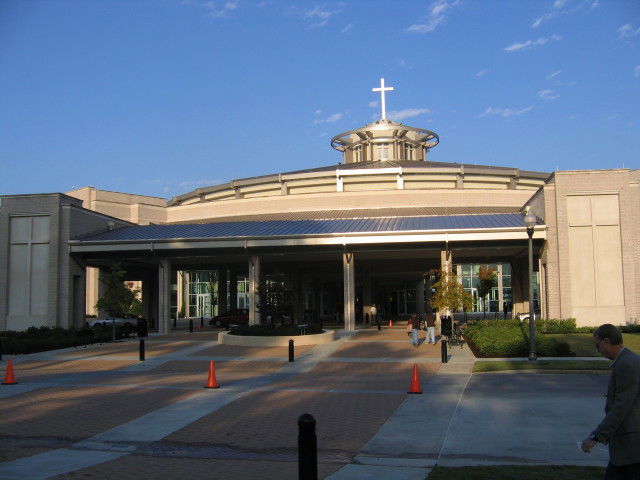 3. The audience while I spoke (2 photographs)
4. Me being interviewed by a host from a Canadian Christian radio station (People came from all across the USA, Canada, Australia, Europe, and other places to attend this conference—it was especially a thrill to meet some Aussies from my home country!)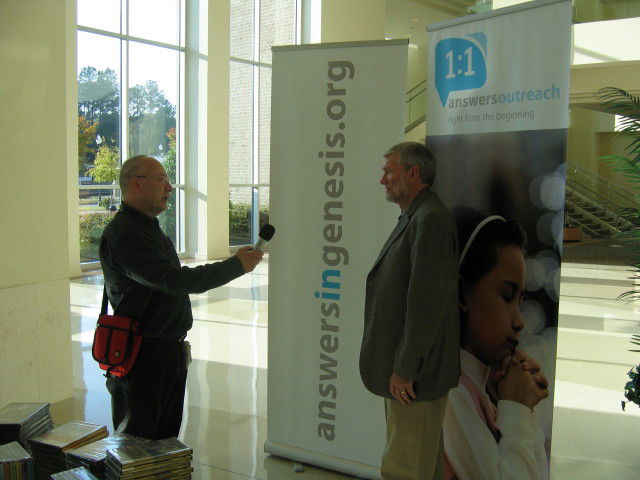 Thanks for stopping by and thanks for praying,
Ken