We have always said that one of the priorities of the AiG ministry is to reach the church. In my more than 30 years' experience in the biblical creation apologetics ministry, I have found that the majority of church leaders (and seminary and Bible profs)—and the majority of people in the churches—will not take a stand on Genesis 1–11 as they should. Sadly, this has led to an undermining of biblical authority in this nation (and around the world).
During the summer break, a young man who is a student at Master's College (one of the few Christian colleges that stands on the authority of God's Word in Genesis as they should) obtained a job teaching children at a local church northwest of Los Angeles. However, when he mentioned the creation/evolution issue to the children, he found the church leadership were not happy. There were a number of confrontations, and eventually he had to leave his position.
I met this young man (Lee Anderson) at a conference in California. After he gave me an account of what happened, I told him if he could visit the Creation Museum, I would have him speak to the AiG staff concerning his sad encounter at this church. This week Lee was able to visit with us and yesterday spoke to the AiG staff.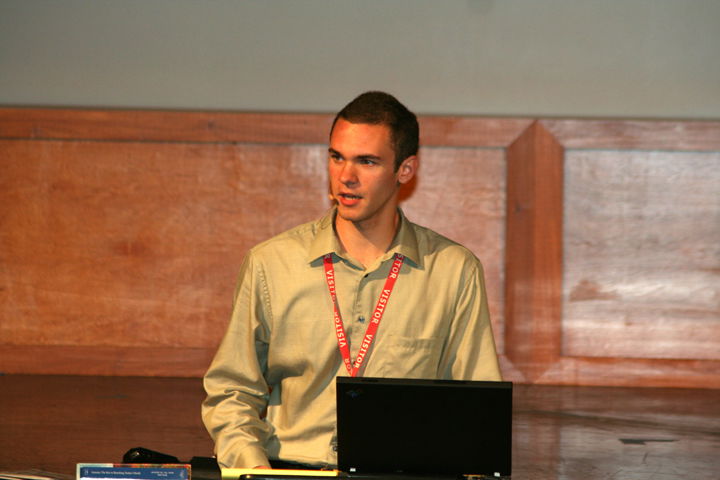 Lee is a very well spoken young man and certainly showed the AiG staff he had received excellent training at Master's College. His account of what happened is a reminder to all of us for the need to reach the church as a priority concerning the vital importance of biblical creation apologetics. I have included an audio file of his presentation to the staff, and I encourage you to listen to it.
After Lee gave his presentation, I gave a report to the staff on my recent ministry trips.
Security Luncheon
Yesterday, AiG hosted a luncheon at the Creation Museum for a security organization. One of AiG's security staff (Trevor Abdon) was the main presenter. Trevor spoke on why there is the need for security at the Creation Museum and how we developed the security department—what our security staff are trained to do etc. It went very well, and after his presentation, Trevor took most of those in attendance on a tour of the museum. The group enjoyed a wonderful meal served by our good friend Clancy from Famous Dave's BBQ. I have included photographs of Trevor as he spoke and as he met with people afterward.
Devotion
Spare them

(1 Samuel 28:3)  Now Samuel was dead, and all Israel had lamented him, and buried him in Ramah, even in his own city.
(1 Samuel 31:6)  So Saul died, and his three sons, and his armourbearer, and all his men, that same day together.

God's timing for when we should die & leave this earth to be with Him is perfect, and sometimes He takes His servants home to spare them from a coming disaster.
Thanks for stopping  by and thanks for
praying
,
Ken