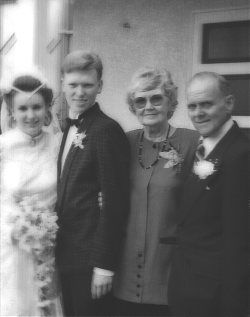 This is a very different book—certainly different from anything I've written so far. It is part journal, part tribute, part devotional, and part "how-to." It's also all heart, an expression of a passion, conviction, and commitment to the Word of God—all of which was instilled in us by our parents. My brother Steve and I deeply desire that the words ahead will be real and honest as we offer glimpses into our childhood and adult lives. As we share with you our journeys in the Ham family, you will see us, warts and all. We will share stories from when we were being raised in Australia, a country that by anyone's standards would be considered non-Christian and pagan. I'll talk about my years as a student and a teacher, and about the surprising paths that brought me to where I am today as one of the leaders of the worldwide Answers in Genesis ministry. Steve and I pray that the words ahead will bring glory to God for all He has done—and all He continues to do—for my family and yours as well.
In my capacity as a speaker for Answers in Genesis, I write and speak most often on topics related to the creation/evolution debate and Genesis. Over the years I have also developed messages about how the Genesis foundation (and the doctrines that are built upon it) impacts day-to-day life. My brother Steve has done the same, developing Genesis-based talks dealing with raising children.
Steve and I are greatly concerned with the condition of many church families. The statistics are discouraging, and the situation appears to be going from bad to worse, with the possibility that much of the next generation could be entirely lost to the ways of the Lord. Because of our unique upbringing and our understanding of the authority of the Word of God, we have been convicted to write this book in the hope that many more godly offspring will be produced for the Lord; for we believe the trends we see can be reversed, one family at a time.
To that end, this book is about the family—the Christian family. Specifically, we will do our best to answer this question: What does God's Word teach us regarding roles of parents and how to bring up children? As we find answers to these overriding questions, other important questions will be answered as well:
Why is the family disintegrating?
What is a godly legacy and why is it vital to our families and our society?
What is God's purpose and meaning for the family?
What is the primary importance of marriage?
How do we know God's Word is an all-sufficient parenting guide?
How do we interpret and apply the Bible to our parenting with integrity?
Why is our relationship with Christ the most important element of a legacy? What are God's roles for the husband and wife in a family?
How do you create a family environment for spiritual growth?
How are we to train our kids and place ourselves in a position to answer our children's potentially faith-shattering questions?
Is Christian education an option?
Should all children be home schooled?
Are Christian children meant to be salt and light in the public schools?
What does the Bible say about "submission"?
How are we to implement godly discipline and teach our children discernment?
What is a "family fortress" and why is it important to the world?
The answers to these vital parenting questions (and many, many more) are found in the Bible, starting with the Book of Genesis. The sufficiency and authority of Scripture, properly interpreted and understood, gives us the basis for godly parenting. As you take God's Word and apply its eternal principles to the everyday issues you face with your family, you will begin to create a godly heritage—a legacy that will impact the generations to come in ways you never dreamed possible.
I am, by God's grace, the head of a major Christian organization, and an author of many books. Through our websites, conferences, radio programs, and written literature, God is using the ministry of Answers in Genesis to influence thousands of lives throughout the world on a daily basis. As we address these vital topics regarding parenting, Steve and I will share, as best we understand them, the influences which have guided our lives and shaped us into who we are today. We also lay down the biblical foundation for raising godly children that we have learned with our wives over many years. As we share with you our family struggles and obvious imperfections, it is our hope that our honest and personal words will communicate our life experiences to you in a way that is serious, at times humorous, and, hopefully, very convicting.
So be prepared to be challenged as we share with you Raising Godly Children in an Ungodly World!